Bev's ESC chief joins ranks of NC's unemployed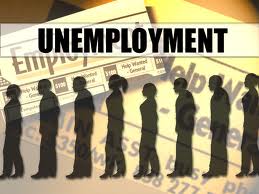 The woman in charge of disbursing unemployment benefits to North Carolinians is, herself,  joining the ranks of the state's unemployed:
Lynn Holmes, the head of the state's Division of Employment Security, is resigning effective April 15 to pursue new opportunities.
That's fancy political talk for "I got pushed out the door."   Read on:
Holmes announced her resignation in an email to the division's employees on Thursday.

Her four-sentence resignation email said nothing more about her decision to depart.

Until recently, the Division of Employment Security was known as the Employment Security Commission. The ESC was consolidated with the Department of Commerce as part of a reorganization plan detailed in an executive order issued by Gov. Bev Perdue. Holmes' new title is assistant secretary for employment security.

Secretary of Commerce Keith Crisco thanked Holmes for her service in a statement. An interim replacement has yet to be named, said Larry Parker, a spokesman for the Division of Employment Security.

Holmes worked as a lobbyist for BellSouth and was running her own consulting firm in Raleigh when Perdue tapped her to lead the ESC in March 2010.

Her agency came under withering criticism in the fall of 2010 after it began recouping overpayments it made to about 38,000 unemployed workers. The agency later reversed course and returned all the deductions it had made from longtime unemployed workers' benefit checks.

The $28 million in overpayments were caused by a computer glitch that the ESC failed to correct quickly because it was focused on implementing other benefit programs that affected more people.

Perdue sent a team of IT specialists to evaluate the ESC's computer system and how it is being used by the agency's employees.

The Division of Employment Security, like its counterparts in other states, has been dealing with an unprecedented increase in unemployment benefit claims in recent years. The state has borrowed billions of dollars from the federal government since the recession to pay unemployment benefits, and it's unclear how the money will be paid back.

Holmes also was criticized by the GOP legislature over the repayment issue. Earlier this year, a legislative committee issued a subpoena for Holmes to appear and testify about her plans to reform the division. She later testified.
If you'll remember, ESC was also central to a mini-scandal where ESC officials were collaborating with Bev's office to leak and spin unemployment numbers for the state.