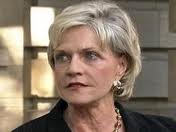 I spent Tuesday night, in my usual spot in The Dean E. Smith Center in Chapel Hill, watching my beloved Tar Heels dismantle The Miami Hurricanes.  As halftime approached, the P.A. announcer encouraged all of us to remain in our seats at the start of halftime for a "special presentation."
The tease worked.  I delayed my trip to the men's room and the concession stand just to see what the fuss was about.
It turned out to be a special, center-court tribute to retired play-by-play man Woody Durham.  School officials praised Durham to the assembled crowd, and announced that the radio booth in Kenan Stadium would be officially named after Durham himself.  Woody Durham and former basketball coach Dean Smith are arguably the two most beloved figures in the hearts of Carolina athletics fans.  The crowd at the Smith Center showed their appreciation for Durham with an extended, raucous standing ovation.
Then, the mood shifted.  Suddenly, without warning, the face of Madame Perdue-Eaves appeared on each of the four Jumbotrons above the court.  The moment her face appeared, the cheering shifted to loud booing.  (I could not detect ANY cheering or applause for her.)  Madame  had been hiding among the group at center-court.
(Have you seen the movie Animal House? The crowd's reaction to Madame's presence in the building reminded me of the scene in the movie where the Delta Chis are reviewing slides of prospective pledges, and Flounder's face pops up.) 
When the booing began to subside, the P.A. announcer told us the boss lady was there to present Woody with The Order of The Long Leaf Pine.  Bev quickly handed the framed award to Durham, who then thanked her and held the award above his head.  The cheering — for Durham — resumed.
I am sure that someone in the campaign told Bev: "Yeah, there are a lot of voters in the Dean Dome.  Carolina basketball is doing well.  You have always done well in Chapel Hill.  We could have a great photo op of you honoring someone Carolina fans LOVE in front of more than 20,000 Carolina fans.  What could go wrong?"
Wow.  A leftist Democrat booed vociferously in the heart of The People's Republic of Chapel Hill. That's like Ho Chi Minh getting booed in Hanoi.  Castro getting booed in Havana.  Brezhnev getting booed in Red Square.  In other words, it's unthinkable. 
So, pay no attention to the stammering and stuttering and slobbering of Rob Christensen and Chris Fitzsimon.  This woman is in BIG TROUBLE.