Better Late Than Never to The ObamaCare Fight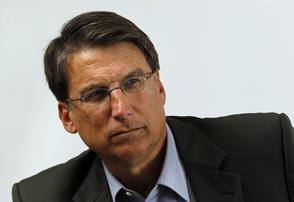 Gov. Pat apparently has seen the light (or, more likely, the statewide polling or the whip counts in the state House)  and come  over from the dark side.  Until today, our chief executive had been surprisingly mute — and sometimes speaking rather halting or apprehensive  — on the idea of whether to implement key portions of the ObamaCare monstrosity.  Today, Gov. Pat put all doubts to rest and issued a statement documenting his opposition to expanding Medicaid and setting up a state health exchange.
This is a dramatic departure from his prior "It's the law of the land"-esque statements. (But we'll take it.)  On one hand, it's a shame that we have to actually push him rightward to do the correct thing.  On the other hand, its' a good thing that he'll actually go there.
The statement from the governor suggests that he wants to leave it up to the federal government to set up a health exchange.  HHS Secretary Kathleen Sebelius has said publicly that the administration does not have the funding to run all of the health care exchanges so crucial to the launch of ObamaCare.   ObamaCare opponents have suggested that with enough states refusing to set up exchanges — 28 so far, including North Carolina — a monkey wrench will be thrown into this monstrosity that will hopefully lead to a significant delay or complete implosion.