An unsubstantiatable hate crime allegation. (*Imagine THAT.*)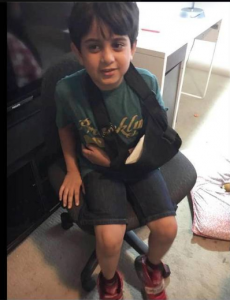 McClatchy informed us recently that anti-gay hate crime was exploding across North Carolina.  Now, CAIR and other assorted apologists for radical Islam, are trying to paint our state as a hotbed of anti-Muslim hate crime.  Reports of a cute-as-a-button Pakistani-American 1st grade boy being allegedly beaten on a school bus in Cary made international news. 
The Council on American-Islamic Relations immediately called for a special probe into the alleged incident.
"Welcome to the United States of America of Donald Trump" the kid's dad wrote on a Facebook post that featured said kid wearing a cast and sling on his left arm.
But, surprise, surprise — neither Wake County schools nor the Cary P.D. could find any evidence to corroborate the story being peddled by the family or CAIR:
[…] At this time, the information from the investigation does not support an altercation," Weatherstone Principal Tim Chadwick told parents in a letter sent Thursday. "In fact, we are not able to corroborate much of what is described in the release."

The Cary Police Department has been investigating the allegations as well.

"At this time, nothing has been found, and no police report has been filed," Cary Town Manager Sean R. Stegall said in a written statement.

After Usmani's Facebook post, the Council on American-Islamic Relations issued a press release Monday calling on the Wake County school system to investigate the incident.

CAIR's press release says Abdul Aziz, an American citizen of Pakistani heritage, was reportedly assaulted by five other children the bus who allegedly made references to Islam, Muslims and Pakistan during the attack. CAIR also cited Usmani in saying that his son was "punched in the face, had his arm twisted and was kicked in the stomach."

In subsequent news articles, Usmani has gone into more detail on the alleged assault.

"These are six and seven year old kids calling him names, with one kid punching him in the face, while two other kids attacked him, kicked him, and held his arms back," Usmani told BuzzFeed News in an article posted online Tuesday.

"They keep beating him all the way from school to home on the bus," Usmani also told BuzzFeed, adding that his son was traumatized by the attack and has a sprained arm.

A Huffington Post article originally posted Wednesday adds that Abdul Aziz told his parents a classmate had tried to force him to eat food that wasn't halal. When Abdul Aziz refused, five of his classmates ganged up on him, making fun of his name. They punched him in the face, kicked him in the stomach, and twisted his arm while calling him "Muslim" again and again, Usmani told the Huffington Post.

Chadwick, Weatherston's principal, said the district's ongoing investigation was launched immediately after speaking with the family about their concerns. He said the school's staff had spent hours over the past several days talking with parents, students and the driver of the bus about the incident.

But based on the investigation, Chadwick said "we don't have evidence that this particular incident occurred,"

"No students who were interviewed witnessed an altercation," Chadwick said in the letter to Weatherstone families. "The bus driver did not witness an altercation. The child did not report to the bus driver any injury."

The bus where the incident is alleged to have happened did not have cameras to monitor what students were doing, according to Lisa Luten, a Wake County schools spokeswoman. Some of Wake's buses have onboard cameras to record student behavior.

Since last Friday, the Usmani family has relocated to Pakistan. Media outlets have posted stories about how the family are victims of Islamaphobia, fueled by Republican presidential nominee Donald Trump's controversial remarks about Muslims.[…]
I'd say the video and other types of documented evidence showing Muslim radicals (1)flying planes into buildings, (2) tossing gays off of rooftops, (3) stoning women to death, and (4) beheading helpless non-Muslim hostages does a hell of a lot more to fuel anger at Islam than Donald Trump does. 
Add this to the long list of smears being tossed manically at Donald Trump, and you begin to wonder if all of those reports in the drive by media of Hillary leading are actually true.  Why expend so much energy pounding on someone you supposedly are already way ahead of?