Alamance legislators seek no-bid, no rules food deal for county jail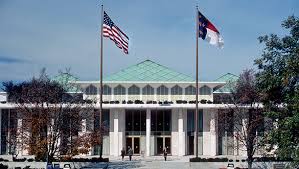 It certainly looks innocent enough when you read it: 
A BILL TO BE ENTITLED AN ACT PROVIDING THAT THE ALAMANCE COUNTY SHERIFF'S OFFICE MAY CONTRACT FOR THE PURCHASE OF FOOD AND SUPPLIES FOR THE COUNTY'S 4 DETENTION FACILITY WITHOUT BEING SUBJECT TO THE REQUIREMENTS OF CERTAIN STATE PURCHASE AND CONTRACT LAWS. The General Assembly of North Carolina enacts:

SECTION 1. The Alamance County Sheriff's Office may contract for the purchase of food and supplies for the County's detention facility without being subject to the requirements of G.S. 143-129 and G.S. 143-131.

SECTION 2. This act is effective when it becomes law.
Let's see.  NCGS 143-129 is the section of the state statutes requiring things like competitive bidding, advertising of bids, and putting all agreements in writing.
NCGS 143-131 contains the mandate to make a good faith effort at obtaining minority participation in government contracts.
The sponsors of this curious piece of legislation are Republicans Dennis Riddell and Stephen Ross. It would be interesting to know WHY the contract needs to evade the competitive bidding requirements. How are taxpayers to know whether food service at the jail is being handled in the most fiscally responsible manner possible?:  Are there really a limited number of sources to contract with for jail food services?  If the reporting requirements for obtaining minority participation are too cumbersome for THIS scenario, what makes them so acceptable for other scenarios?