About that BIG NCGOP $$$ to Mike Causey …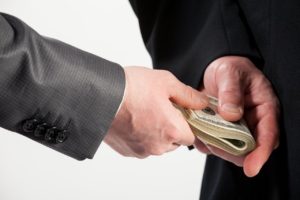 We reported earlier about some of the standout items in the state GOP's third-quarter campaign finance report. That included $240,000 to Insurance Commissioner Mike Causey — who was not on the ballot this November.
Well —  an eagle-eyed fan of this site alerted me to a  report by WRAL's Travis Fain that may shed some more light on that transaction:
State Insurance Commissioner Mike Causey said Wednesday that he's turned over a $240,000 campaign donation to the U.S. Marshals Service as part of an investigation into the state's largest political donor. Causey said the hand-off wasn't part of a deal and that the federal government has not seized the money. "Our campaign is simply sending them a check," he said.[…]
*Oh, yeah.  Just sending the US Marshal Service a quarter mil.   No biggie. Nothing to see here.*
According to their campaign report, the state GOP sent the Causey campaign $10,000 on July 13 and $230,000 on July 26. (This report by Fain came on October 31.)
 MORE: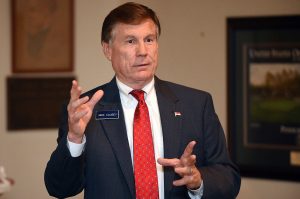 […] The donation came from the North Carolina Republican Party, to which Durham investor Greg Lindberg has donated more than $1.49 million over the last year or so. That's just a portion of the $5 million-plus Lindberg has donated to political campaigns around the state, and he was the target of a subpoena that federal investigators served on Causey's Department of Insurance in September.

The scope of that investigation has not been clear, but the subpoena sought reams of documents tied to a number of Lindberg's companies, some of which are regulated by the department. Causey has said several times that he's cooperating with the investigation and that it "has nothing to do with me or the department," but with Lindberg's companies.

Lindberg had previously tried to donate directly to Causey's campaign, but the commissioner returned the money. A local Democrat filed a complaint with the State Board of Elections and Ethics Enforcement earlier this week alleging that the $240,000 the state GOP gave Causey's campaign earlier this year was an attempt to get Lindberg's money to Causey and to get around contribution limits that cap individual donations to political campaigns at $5,200 per election.

Causey said Wednesday that he had previously asked the FBI if he could return the $240,000 to the Republican Party. "I was not allowed to send it back," he said. "I had asked before … and I was told I could not. It was part of their investigation. Now, we've been cleared to get it back to the FBI."

It was not clear Wednesday why the FBI wanted the money.[…] 
Sometimes they want it back when it's used as part of a sting operation — like, oh say, ABSCAM. 
MORE:
Causey said he assumes it's evidence, but Lindberg donated to the state party by check, campaign finance records show, and the party gave to Causey's campaign by electronic transfer. Causey said his campaign has written a new check, made out to the U.S. Marshals Service in Charlotte.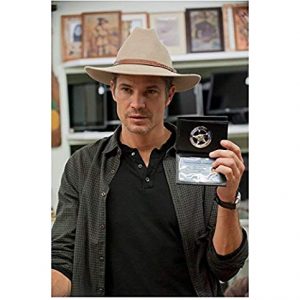 It's never good to have the FBI (or the marshals) paying attention to you.  
While the drivebys are spending so much energy focusing on Lindberg and Causey and Dan Forest, they are downplaying Lindberg's significant ties to former Insurance Commissioner and current state Democrat Party chairman Wayne Goodwin.  So, if this thing blows up — shrapnel is likely to hit both sides of the political aisle.