We're seeing all kinds of sympathetic and heartelt coverage of the parents of a Muslim GI who blasted Donald Trump: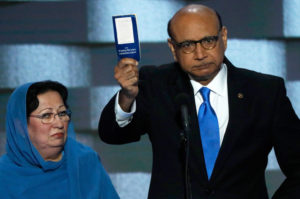 […] The father of a Muslim American soldier killed in Iraq posed a question to Donald Trump: Have you read the Constitution?

To rapturous cheers, Pakistan-born Khizr Khan fiercely attacked the billionaire businessman Thursday at the Democratic convention in Philadelphia, saying that if it was up to Trump, his son never would have been American or served in the military.

Khan said that Hillary Clinton, by contrast, "called my son the best of America."

The address was the latest effort by Democrats to highlight their diversity and criticize Trump's most contentious plans. Beyond his proposed wall across Mexico, the billionaire businessman has threatened to ban Muslims from entering the United States if he becomes president.

Capt. Humayun Khan died in 2004 when a car loaded with explosives blew up at his compound. He was 27.

Honoring his son, Khizr Khan pulled a copy of the Constitution out of his suit pocket and offered to lend it to Trump.

"Look for the words 'liberty' and 'equal protection of law,'" he said standing next to his wife, waving the paperback document vigorously.

"Have you ever been to Arlington cemetery?" he then asked. "Go look at the graves of brave Americans who died defending United States of America. You will see all faiths, genders and ethnicities. You have sacrificed nothing."[…]
O-kay.  I wonder how this parent would have felt if his son had been where Patricia Smith's son HAD BEEN in 2012: 
[…] My son Sean was one of four brave Americans killed during the 2012 terrorist attack at Benghazi.

Sean was a wonderful son and father to my two amazing grandchildren, Samantha and Nathan, now 10 and 11.

He was proud to serve his country with the United States Foreign Service. The last time I talked to Sean, the night before the terrorist attack, he told me, "Mom, I am going to die."

All security had been pulled from the embassy, he explained. And when he asked why, he never received a response.

Nobody listened. Nobody seemed to care.

The very next day, he was murdered by radical Islamic terrorists.

To this day, I don't even know why a computer guy like Sean was sent to Benghazi.

That night, we lost sons, brothers, fathers, and husbands.

We lost four brave Americans who made the ultimate sacrifice for the country they chose to serve.

And, the American people lost the truth.

For all of this loss, for all of this grief, for all of the cynicism the tragedy in Benghazi has wrought upon America, I blame Hillary Clinton.

I blame Hillary Clinton personally for the death of my son.

In an email to her daughter shortly after the attack, Hillary Clinton blamed it on terrorism.

But when I saw Hillary Clinton at Sean's coffin ceremony, just days later, she looked me squarely in the eye and told me a video was responsible.

Since then, I have repeatedly asked Hillary Clinton to explain to me the real reason why my son is dead.

I'm still waiting.

Whenever I called the State Department, no one would speak to me because they say I am "not a member of the immediate family."

Sean is my son.

Hillary Clinton is a woman, a mother and a grandmother of two. I am a woman, a mother and a grandmother of two.

How could she do this to me? How could she do this to any American family? Donald Trump is everything Hillary Clinton is not.

He is blunt, direct, and strong.

He speaks his mind, and his heart.

And, when it comes to the threat posed by radical Islamic terrorism, he will not hesitate to kill the terrorists who threaten American lives.

He will make America stronger, not weaker. This entire campaign comes down to a single question.

If Hillary Clinton … can't give us the truth … why should we give her the presidency.[…]
Both sides in this campaign deserve a slap on the hand for daring to use grieving parents as props for the driveby cameras.  Beyond that, the two cases do raise interesting questions.
Do the Democrats really want to run on the suggestion that terrorism and Islam have nothing to do with each other?  Really?  Do they really want to suggest that what happened in Nice, Orlando, Paris, New York, DC, London, Boston, Germany., and that Catholic church in Normandy are just random incidents of violence?  *Never mind all the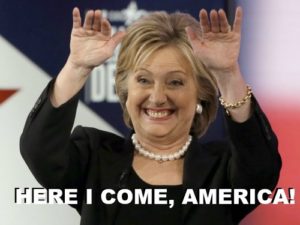 guys in the vicinity named Mohamed and the occasional screams of "Allah Akbar."*  
I don't see Presbyterians or Catholics running around bombing, decapitating or immolating innocent people. Outside of the kooks at Westboro Baptist Church, I don't think you'll find anybody preaching from the pulpit of a Christian church to "kill the infidels in the name of the true God." 
I say let's have that debate.  But do it between Hillary and Trump.  And make that shrew have to answer for her role in leaving those people in Benghazi to die, and her and her party's efforts in the Senate to sabotage the war on terror.  Let's also talk about her and her partner-in-grifting's roles in the so-called Clinton Foundation — lining their pockets with public and private funds meant to help the poor around the world.
The Trump message is NOTHING akin to the Nazi anti-Jew efforts of the 30s and 40s.  (Or the current Muslim harassment of Christians throughout the Middle East.)  It's about hitting pause before our immigration mess blows up into a full-blown nightmare like what Europe is seeing NOW.