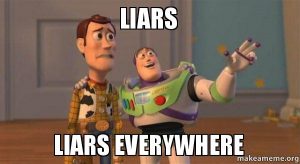 Reports of conservative activists in western North Carolina being allegedly persecuted and harassed over "party disloyalty" for the offense of criticizing the ruling NCGOP junta in Raleigh have us thinking.
The GOP platform, at the state and national level, clearly lays out what you're voting for if you pull the Republican lever on election day.  But, are you getting that?  Is it arguable that elected officials who ignore the party platform while in office are the ones truly being disloyal to the party?  Let's take a look at that. 
NCGOP Platform, Article 2 The Economy:
The GOP majority on Jones Street has been fine-and-dandy with special deals and favors for private corporations.  Especially those who have lobbyists who throw a lot of cash around.  
The GOP majority has approved such deals, and has sat silently by while Govs. Perdue, McCrory, and Cooper have  executed such deals in the name of "economic development."
NCGOP Platform, Article 3 Individual Liberty:
The lottery is STILL HERE.  Nothing has been done about #3 either.
Here's more from that same section:
6. No State funds should be spent without an explicit appropriation. We oppose "slush funds" as rewards for political support. Raiding of dedicated funds should not be allowed except in an emergency as determined by law. Every bill heard in committee should receive a recorded vote. The budget bill should be made public at least two legislative days before the final vote in each house.