Yes, Duke University, "diversity training" IS a big waste of time.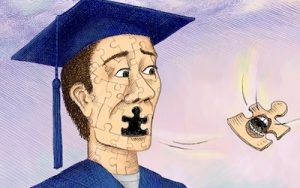 I have a rule here.  This is a conservative site.  But a little debate never hurts anything.  Lefties are always welcome here.  Though I do make them comply with some simple rules: (1) no profanity, (2) no slander, and (3) sign up with an email that IDs you if you post under an alias.  Violate any of these three, and you get blocked.  You'd be amazed at how many lefties we have to kick out of here for not adhering to rule #1. It's as though most of them can't communicate without cursing. 
Lefties are famous for claiming that they champion "freedom of speech" and "freedom of expression."  They're OK with you speaking your mind — as long as it matches what's running through their minds.
College campuses — where free speech ought to be in abundance — are the most notorious locales for this.  "Diversity" and "Inclusiveness" are code words cloaking the shakedown tactics of the race, gender and sexual orientation mafias.
We recently reported on UNC Medical School's search for an "Assistant Dean for Inclusive Excellence" to interact with grovel to the race and gender shakedown mobs.  Now, we have Duke University running off a professor for telling the truth about these people and their tactics: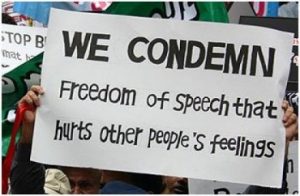 A divinity professor at Duke University has apparently resigned following disciplinary actions against him, after he questioned the value of diversity training at the school.

Paul Griffiths, a professor of Catholic theology at the school, could not be reached for comment Tuesday about the flap. A colleague at the school says Griffiths, 61, has resigned, effective next year.

A string of emails, first published by The American Conservative website, revealed a chain of events that began with a February invitation to all divinity school faculty to participate in two full days of racial equity training in March.

"Those who have participated in the training have described it as transformative, powerful, and life-changing," wrote Anathea Portier-Young, an associate professor of Old Testament. "We recognize that it is a significant commitment of time; we also believe it will have great dividends for our community."

Griffiths responded the same day to Portier-Young, Feb. 6, copying all faculty on the email and calling the training a waste of time.

"I exhort you not to attend this training," he wrote, according to the published exchange. "Don't lay waste your time by doing so. It'll be, I predict with confidence, intellectually flaccid: there'll be bromides, clichés, and amen-corner rah-rahs in plenty. When (if) it gets beyond that, its illiberal roots and totalitarian tendencies will show. Events of this sort are definitively anti-intellectual."

That's when the trouble escalated.[…]
Oh, I'd bet so.  Surrounded by mindless leftist heathens, and this guy dares to try to speak common sense to them.    
The way the school reacted, you'd have thought he'd made terrorist threats, or attended an off-campus party with members of the lacrosse team: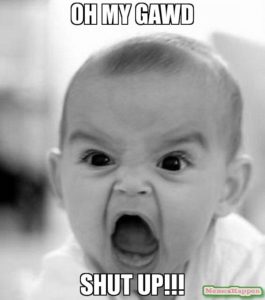 […] Within hours the school's dean, Elaine Heath, emailed the faculty and without mentioning Griffiths specifically, wrote: "It is inappropriate and unprofessional to use mass emails to make disparaging statements –including arguments ad hominem – in order to humiliate or undermine individual colleagues or groups of colleagues with whom we disagree. The use of mass emails to express racism, sexism, and other forms of bigotry is offensive and unacceptable, especially in a Christian institution."

Heath asked to meet with Griffiths, according to the emails, but the professor and administrator couldn't agree on the conditions for the meeting, and it never happened.

Griffiths later emailed his colleagues with the subject line: "intellectual freedom and institutional discipline" at the school. He said he was now the target of two separate disciplinary proceedings, including a harassment complaint by Portier-Young, which was being handled by Duke's Office for Institutional Equity. The dean, he said, had banned him from faculty meetings and promised that he would not receive future funds for research and travel.[…]
"Anti-intellectual" is racist, sexist, or bigoted ???
Office for Institutional Equity ???   That's might Orwellian.  A conservative going in front of that bunch probably has the same kind of chance dissidents had going in front of ol' Joe Stalin's 'kangaroo courts.'  
"Totalitarian tendencies" is what the professor predicted in his email.  The school, and his accusers, have proven him right.