With Chavis, NC Dems would take wide left turn, hop on board the crazy train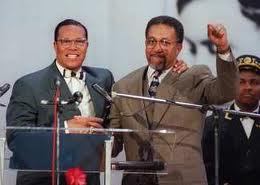 If North Carolina Democrat Party chairman Randy Voller has his way, his party's day-to-day operations will  soon be run by a disciple of Louis Farrakhan who got himself ousted amid controversy from the NAACP's top national post:
A day after ousting the executive director, the chairman of the N.C. Democratic Party appears poised to nominate former civil rights and Nation of Islam leader Benjamin Chavis to the post, a contentious pick that may not earn support from party leaders.

Democratic Chairman Randy Voller said Monday he would name an executive director Wednesday who is a "North Carolina native and national leader." The party's First Vice Chairwoman Patsy Keever said Voller intends to name Chavis, who also served as executive director of the NAACP before being ousted nearly two decades ago amid a sexual harassment scandal.

"That is Randy's intention," she said.
Shortly after Chavis' 1994, ouster from the NAACP, that organization's leadership spoke up about him and the efforts to replace him:
[…] But other board members, especially those who led the charge to oust Chavis, said there will be a change in how the NAACP is managed and where it is headed.

Board member Leroy Warren of Silver Springs, Md., said the organization will be looking for a leader whose ideology is centrist.

"We don't want to go back to a '60s, dated radical-type person," he said. "(We) want a middle-of-the-road, mainstream-type person with national stature to be in charge."

This is the very direction, some members say, that caused the NAACP to lose membership and relevance to segments of the black community over the past two decades.

But Warren and others say that the NAACP, under Chavis, was reaching too far. Chavis' overtures to Farrakhan were particularly alienating to friends inside and outside the organization.

"We can't be everything to all people," Warren said.

Ben Andrews, the vice chairman of the board, said board members made a basic misjudgment when they chose Chavis to succeed Benjamin Hooks, who headed the organization for 15 years.

"We looked to charisma rather than management expertise," Andrews said. "We looked to oratory, instead of strategic planning ability." […]
The Baltimore Sun caught up with Chavis three years later: 
Ben Chavis, the fallen civil-rights leader, has made it official: He's not just a sycophant of Louis Farrakhan; he's now a convert to Mr. Farrakhan's brand of Islam.

Or, as Mr. Chavis puts it: "I am not turning from Christ. I am turning to Allah."

This former Episcopalian and now former member of the United Church of Christ is now a Muslim whose new name is Benjamin Chavis Muhammad.

It's not surprising, really. Last summer, when Mr. Farrakhan berated black journalists who had invited him to speak at their TC annual convention, Mr. Chavis stood dutifully to the right and slightly behind, looking like an unofficial member of the minister's security detail, the Fruit of Islam.

And as if to convey that Mr. Chavis, the former executive director of the National Association for the Advancement of Colored People, was nothing more than a member of the crew, Mr. Farrakhan never once acknowledged his presence.

"To resurrect our people"

Recently Mr. Chavis Muhammad explained why he moved to an organization as devoutly separatist as the NAACP is integrationist.

"Too many of our people are in prison," he told USA Today. "Too many of our people are on drugs. Too many of our people are on the way to self-destruction. I see the Nation of Islam as a vehicle to resurrect our people from the dead.

"What other organization is taking men and women out of despair and making them upright?"
If the Democrats go forward this, I will gleefully await one of them making an accusation of "extremism" against a conservative.