Why should Pat McCrory be North Carolina's next governor?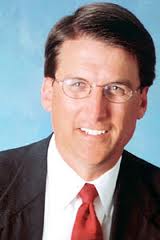 Longtime readers of this site know that I am no fan of Boss Bev.  (She HAS GOT TO GO. )  But what do we replace her with?  The Raleigh Ruling Class Republicans are working overtime to shove former Charlotte mayor Pat McCrory down down our throats.  Like the ruling class's other favorite, Mitt Romney,  Pat is a nice looking guy with a nice smile.  Pat can be charming on the stump.  But  what are his core beliefs? Where will he cut and run?  What will he stand and fight for? What would he really do with four years in the Executive Mansion in Raleigh?  Would he be all that different  from Hunt, Easley and Perdue?
McCrory pretty much avoids specifics and controversy on the campaign trail.  Let's look at his record in Charlotte.  In March of this year, a John Locke Foundation study ranked Charlotte as the highest-taxed city for the tenth consecutive year.  (McCrory was Charlotte mayor from 1995 to 2009.)
As a party-builder, McCrory's credentials in Charlotte are questionable.  Since leaving office, Democrats have taken over the City Council and mayor's office.
In 1997, McCrory  lobbied the state legislature in Raleigh to approve a local sales tax for Charlotte to pay for mass transit.     McCrory also led opposition to conservative efforts to repeal the tax.
Conservative autopsies on the 2008 campaign found that McCrory could not motivate conservative Charlotte area voters:
There's a brewing confusion that a huge Obama-inspired Democratic turnout sank Pat McCrory and local GOP candidates in Mecklenburg County Nov. 4. This is advanced despite the fact that county turnout underperformed the rest of the state, 65 percent to 69 percent.

"I knew all along the problem is numbers. We are outnumbered by Democrats and it shows there," defeated Republican county commissioner Dan Ramirez told The Charlotte Observer. Similarly, McCrory campaign aide Richard Hudson tried to cite "a Chicago-style turnout machine" as the reason for McCrory's Election Day dud in the Queen City.

Sorry, but the numbers do not support this electoral fatalism on the part of a wounded, confused Republican Party. To understand why Democrat Bev Perdue carried a county every election prognosticator assumed would go for Charlotte's mayor you need to drill down to the precinct level. There you find Perdue's 385-vote victory margin, along with some uncomfortable answers for GOP strategists.

First, note that Democrat Larry Kissell crushed GOP Rep. Robin Hayes in Mecklenburg County precincts. Kissell tripled Hayes' votes in the district's 29 county precincts. Overall, fully 20 percent of Kissell's votes came from the sliver of Mecklenburg that Hayes represented. Perdue carried 26 of those precincts as well, several by overwhelming margins, with turnout at 70 percent or higher. Indeed, a huge swath of East Charlotte extending out to Cabarrus County abandoned their mayor in droves.

The area has shifted gradually toward a less white, lower income mix in recent years. But demographics do not explain everything. Higher Democratic turnout in Democratic precincts is only part of the story. The rest of the story? Local Republicans simply did not turn out to elect McCrory governor.

Not only did Perdue carry a few precincts in the southern burbs — Pineville Elementary and Sharon Lakes, for example — many area precincts that favored McCrory did so with underwhelming turnout, some as much as 13 percent lower than the rest of the county. For example, precincts 87 and 88 in Pineville gave McCrory 60 percent of their votes, but turned out only 55 percent and 52 percent of their voters to do so.

An even more striking story unfolded in what should have been die-hard McCrory country along the Union County and South Carolina borders. In fact, all of Union County turned out at a higher rate than did Mecklenburg, with Union coming in at 71 percent turnout. And several heavily GOP Union precincts did significantly better than that, such as Fairview Elementary (77 percent) and Sandy Ridge Elementary (82 percent). Both precincts sit across the county line from Mecklenburg precincts that failed to hit even the statewide average.

Providence Country Club, for example, went 76 percent for McCrory on only 64 percent turnout. At Providence High School, McCrory ran 17 points ahead of John McCain with 67 percent of the vote — and with a staggeringly low turnout of 52 percent. Numbers tell a similar tale at Mt. Harmony Baptist further east and in the far corner of the county at Blair Road United Methodist, which went 76 percent for McCrory with just 63 percent turnout. Closer in Myers Park Elementary went 78 percent for McCrory — also on 63 percent turnout.

Had these precincts turned out for McCrory at even the statewide average, let alone approached the turnout in demographically similar Union precincts, the mayor clearly would have carried his home county. Handily. Mecklenburg County Republicans should not delude themselves. They were not run over by an Obama machine. They simply failed to get their own voters to the polls.

Here's one more nugget to tease out. McCrory carried Davidson Town Hall with 53 percent of the vote on 59 percent turnout. Other precinct winners Election Night included Democratic county commission at-large candidate Jennifer Roberts, Kay Hagan, Barack Obama, Walter Dalton, and every single Democrat on the ballot. At Park Road Elementary, Obama, Hagan, and Roberts all won — as did McCrory. Similar deal at Covenant Presbyterian Church, deep in the heart of liberal Dilworth.

In short, McCrory got the local moderate and even liberal voters his campaign was careful not to offend. At the same time, he failed to give local conservatives he had clashed with over the years any reason to support him. 

There are two lessons here. When you go to battle, always protect your base. And a political party has to stand for something if it expects people to stand for it.
Exactly.   Can I get an Amen?  
To the ruling class in Raleigh:
 you need to do more than to shove this guy on us and tell us to
TRUST YOU

.
  Our state and our country are a fiscal disaster.  To get a serious recovery going, we need to do more than rearrange the deck chairs on The Titanic  or allow a new set of hands to do the tax-collecting and appropriating. You need to give us more than
"He ain't Bev."  
(That didn't work in 2008.)
Give us a good reason to get behind Pat McCrory.