Why 'parental bill of rights' policies are important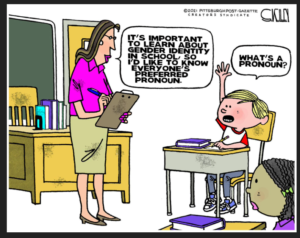 Moore County schools just passed a 'parental bill of rights' .  Of course, leftist heads are exploding all across the countryside.  Rational people see it as important that parents stay informed of what government employees plan to do with their kids. Parental rights opponents and school officials are hysterical about such moves opening the door for massive waves of child abuse. 
How far would school officials go to influence kids behind their parents' backs?  Check out this recent news from Indiana:
Video footage has emerged showing officials across schools in Indiana allegedly admitting to teaching critical race theory (CRT) and diversity, equity, and inclusion (DEI) principles to students under different terms to avoid upsetting parents.

The undercover interviews by the nonprofit conservative news media watchdog, Accuracy in Media (AIM), were published on April 12.

The footage allegedly shows AIM investigators speaking to various officials at Carmel Clay School District, Elkhart Community Schools, Fairfield Community Schools, Goshen Community Schools, Metropolitan School District of Martinsville, Monroe County Community School Corporation, and Plainfield Community School Corporation.

In one video snippet of the hidden camera interview, investigators spoke with Plainfield Community School Corporation assistant superintendent Laura DelVecchio, who stated that before the COVID-19 pandemic, "we had started some really deep diving into our curriculum and kind of doing that white privilege walk and making sure, like, just understand right."

"We really—we stay under the radar. And we'd like to keep it that way," she said while explaining that some teachers have put up LGBT pride posters in their rooms.

When asked later if the school district has an "equity department or anything like that," DelVecchio responded that the school has "decided not to call attention to it" so as not to anger parents, adding that "when you call attention to it then questions are asked, and I really believe that you can do more good under the radar."[…] 
"Under the radar."  *Um,yeah.*
Deception like this is going on locally at Sandhills Community College and on the UNC campuses.   It's time to wake up and smell the coffee.  
OUR kids are being indoctrinated and corrupted with OUR money.