Tim Lea & the gays: #HATING on fast food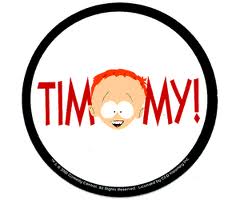 I don't know what it is about fast food.  The gays are in the midst of an attack on Chick-fil-A.  Moore County commissioner Tim Lea is going all-out against Bojangles' exploratory real estate inquiries in Carthage.
Our local  three-time Pulitzer nominated newspaper has been documenting the controversy around a developer's inquiry about the possibility of purchasing county-owned property adjacent to the county's war memorial in Carthage.  The developer is considering the site as one possibility for locating a Bojangles restaurant in the county seat.
At the last commissioner's meeting, a delegation of veterans spoke against the idea of allowing the developer to build the restaurant next door to the memorial.  My #1 mole in the county bureaucracy tells me that commissioner Tim Lea has been working overtime to rile people up and stir up controversy over the proposed development:
"This whole thing is a Tim Lea production.  He has been scaring these veterans to death about what could happen at that property.  Commissioner Lea — not too long ago — wanted to build a FOUR STORY office building in the same spot these people are looking at to do the Bojangles.  That didn't happen.  Tim Lea didn't get his way.  So, he is going to destroy all other alternative ideas, and the people behind them.  It's really sick, bizarre behavior.  He's acting like Richard Morgan during his last days in the legislature.  It didn't work out well for Richard.  It's really not working out well for commissioner Lea."
The mole points out that  the proposed location of the restaurant would actually be BEHIND anyone paying respects at the monument:
"There used to be a county office building across from the monument.  At one time, it was a grocery store. There even was a Subway there at one time. This is all such nonsense, and it is Tim Lea's fault."
I spoke with a former commissioner who was in office at the time the war memorial was erected. Here's what this former official told me:
"The county owned the land.  The veterans had a need.  It was a cheap, cost-effective solution to  that need.  We really didn't have any kind of vision for the whole area when we did it.  We just did it."
The mole tells me Lea is peddling some conspiracy theory suggesting  the Bojangles deal is part of some corruption involving fellow commissioners Larry Caddell and Nick Picerno.   My source says it is well known around Carthage that Lea is advising the campaign of Picerno's Democrat challenger in the November general election.  According to my mole:
"So many of us here are relieved that Tim Lea will be gone at the end of the year.  He's all about creating drama, without worrying too much about facts.  Getting positive things done is a distant second to him. "