NCGOP leadership has compiled a list of candidates to replace the party's two members who recently resigned from the state board of elections: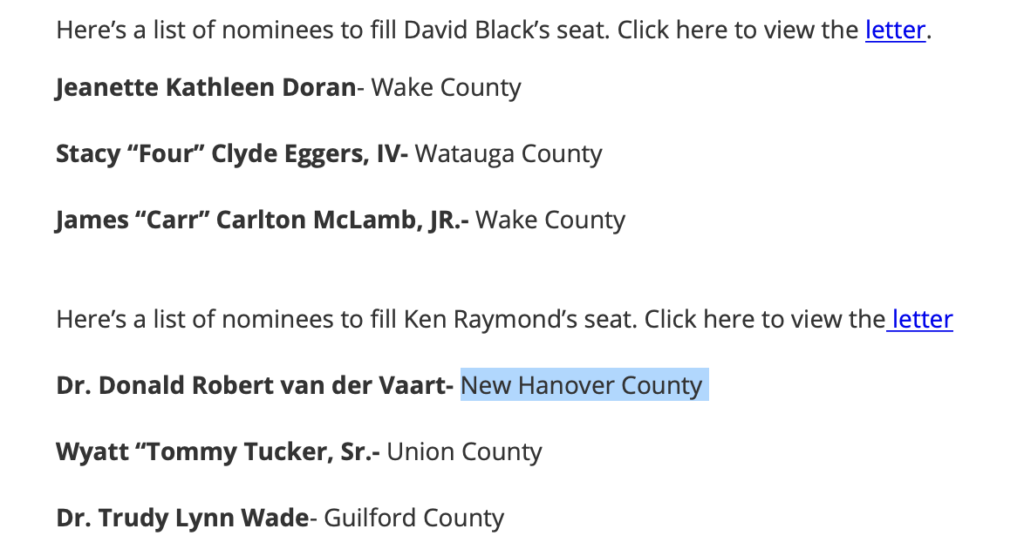 State law says Governor Doofus gets to pick one name from each list to serve on the board.   For conservatives, the best picks would be Jeanette Doran and Don van der Vaart.   (I probably just killed their chances right there.). Van der Vaart is a smart cookie with an instinct to fight when fighting is needed.   We're in war mode right now, and the NCGOP needs as many fighters as possible out there.
Jeanette Doran is a conservative attorney who would complement van der Vaart well.   One thing the two have in common?  They both have ties to the Art Pope Conspiracy.™
A good runner-up to Doran would be attorney Stacy Eggers of Watauga County.  This guy drove the liberals in Boone CRAZY while he served on the county board of elections.
A good runner-up for van der Vaart would be former legislator and city council member Trudy Wade of Greensboro.  Wade was respectably conservative during her time in city and state government.  She also had a combative style that we're going to need a lot of between now and November.