The N&O and Dallas, sittin' in a tree …
I have to say it's quite unusual to see a Republican getting cuddly kid-gloves treatment from The N&O.  Richard Morgan got it — during his time as Jim Black's co-conspirator in the NC House.  If you're a Republican thumbing your nose at the platform and pissing off conservatives left and right, the drive-bys looooooooove you.
Over Thanksgiving came this love letter to everyone's, um, "favorite" cartoon character:
[…]

A bit more than a decade ago, Woodhouse was a custodian at the fairgrounds, with a kid on the way and uncertain job prospects. Today, he is one of the most prominent and divisive figures in North Carolina politics.

He's familiar for his bombastic television persona, often showcased in shouting matches with his brother, a political opposite.

Woodhouse works as executive director of the state's Republican Party. He has led a series of pro-GOP groups in North Carolina, promoting conservative beliefs with sometimes unorthodox marketing strategies.

In 2014, Woodhouse stood on the sidelines of a "Moral Monday" protest. He recruited a young woman to wear a sun costume. He wanted to convey to protesters that sunny days had arrived for the state's economy under GOP leadership, so he handed out Sunkist sodas and yellow, sun-shaped stress balls with the message, "Jobs up, unemployment down."

Woodhouse went on MSNBC during the 2016 presidential election to explain why the state should not have early voting on Sundays. He then pulled out a pair of handcuffs mid-interview to blast Democratic candidate Hillary Clinton.

"We don't have a suppression vote problem in North Carolina," he told MSNBC. "The Democrats have a depression problem. And you know why? It's very simple: Their candidate, if elected, could have these (handcuffs) on Inauguration Day."

Last year, in response to a request to be interviewed by Elon University student media about how Republicans planned to persuade college students, he replied, "Before I do the interview, I want you to visit a large grocery store and take three to five photos of the selection of different Oreo cookies."

At the end of the interview, he explained. "Democrats, you can only have one kind of Oreo. You have to have the health care they say," he said. "Republicans give you your choice. You pick it."[…] 
A lot of folks elected a party chairman in 2015.  An authoritarian group of registered Republicans,I believe, in Raleigh didn't like that choice. So,  they forced theirs on us.
[…] Perry Woods, a Democratic consultant in North Carolina, called Woodhouse a "cartoon character with lots of over-the-top exaggeration."

State Rep. David Lewis, a Harnett County Republican who helped hire Woodhouse as the party's executive director, praises his quirks.

"Sometimes you can get your point across with a smile better than you can with a fist," Lewis said.[…]
Was he smiling while smearing and undermining Hasan Harnett?  Does he smile while partaking in that five-person star chamber that targets grassroots conservatives like The Haywood Five and Lee County GOP chairman Jim Womack who dare to question the political fraud carried out daily in Raleigh by the so-called leaders of the so-called 'conservative revolution'?
And speaking of David Lewis — What happened to that pay-to-play ethics complaint filed against him TWO YEARS AGO?
MORE:
[…]

Trees and a creek were the only things separating a preschool from the Woodhouse residence. When the leaves would fall off the trees in the playground, Dallas could see his home.

He was quick to take advantage of the situation.

On the playground, he'd yell, "Daddy, I want to come home. I want to watch 'Price is Right.' "

"It's probably one of the reasons I'm so loud to this day," Dallas joked.

His father, Wilson, worked from home for his publishing business and would lift Dallas over the fence to rescue him from preschool. The two spent a lot of time together, often driving an hour to Mount Olive to pick up newspapers.

Joyce, Dallas' mom, decided it was time to stop paying for preschool since Dallas usually spent only a couple of hours there before his dad arrived.

"He was a dropout of child care," Joyce said.

Dallas was the youngest of three children, so he received some preferential treatment, though he insists he wasn't spoiled.

"He was completely aggravating and annoying," said Brad, Dallas's older brother. "Complaints to my father went like this: 'Well, he's the baby.' I mean, this was when he was 2, 5, 7, 10, 11. 'Well, he's the baby.' That excused him being loud, annoying and opinionated."

At school, Dallas struggled with homework and focusing on assignments. He didn't see much value in schoolwork, so he poured his energy into activities he was more passionate about, such as acting and singing.

To this day, he boasts about winning two national championships as a member of Broughton High School's "Carolina Spirit" show choir.

Pivot to politics

Woodhouse's parents introduced him to politics at an early age with trips to the polls on Election Day.

His father often voted Democrat, but his political views were hard to categorize. He once supported then-Sen. Jesse Helms, the conservative who infuriated Democrats with his racially charged campaign tactics.

Joyce was secretary to Democratic Gov. Terry Sanford and had her wedding reception with Wilson in the Executive Mansion. She is a registered Democrat who describes herself as a single-issue voter concerned about mental health.

Woodhouse formed strong political beliefs while working as a television reporter in the late 1990s. He said he witnessed corruption under Democratic control, which motivated him to get into politics.

He spent six years working for NBC-17, but when his contract expired in 2001, the station did not renew it.Uncertainty lay ahead. He was also experiencing a lot of changes in his personal life. His father died of diabetes in 1999 at the age of 65.

A few months later, Woodhouse met his future wife, Christine, and the couple got married in April 2001.

Woodhouse went on to work for the state and federal departments of agriculture and an unsuccessful congressional campaign. He also did some custodial work at the state fairgrounds to help make ends meet.

"I needed the money," Woodhouse said. "I needed some work. It took me awhile to get my footing."

He said the experience taught him all work is valuable and that nobody is above that line of work.

Woodhouse searched for a steady job for months before finding one in 2006 with Americans for Prosperity, a political organization funded by Charles and David Koch. The Koch brothers founded AFP in 2004. Today, it is their primary political advocacy group for advancing conservative causes.

[…]

"Partisan politics is a part of what we do, it is a part of what makes America great," Woodhouse says during the documentary. "I don't want less partisan politics. I want more of it."

In 2014, Woodhouse ran Carolina Rising, a conservative political nonprofit that spent nearly all of the $5 million it raised running ads to help Thom Tillis defeat Hagan for Senate. Though designated as a social welfare group, Democrats said Carolina Rising was electioneering and should have identified its donors. But the Federal Election Commission dismissed their complaint after Republican members voted not to pursue it.

"There ought to be more political ads and more money in the political system," Woodhouse says in the documentary. "Let's have a robust debate. … I hope we are always divided when it comes to some of these big things."

Woods, the Democratic operative, says Dallas is part of a broader problem with the political climate.

"He doesn't believe half of what he says, and the other half, he is just wrong about," Woods said.
 I swear.  I pretty much dismiss Perry Woods as a buffoon.  But he is sooooooo right on the money in this article.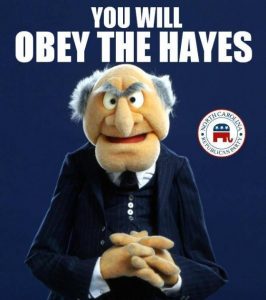 […]

"I try to be ethical and honest," Woodhouse said. "I don't always get it right. When we make mistakes, I try to take responsibility for it. I have always tried to attack the sin, not the sinner – attack the policy that someone was wrong on or the policies they have, not them personally."[…]
Show me even ONE ounce of integrity and honesty in his actions against Hasan Harnett.  ONE OUNCE.
Oh, and is it just me, or does this SMELL like a not-so-subtle attempt to promote Dallas for bigger and better things? (I hear there is an opening at Civitas real, real soon.)
[…] 'Lapse in judgment'

Woodhouse pleaded guilty to driving while impaired when he was 23 on his way home from a wedding, which he says still haunts him.

"That was a severe lapse in judgment and not something I was proud of at the time," Woodhouse said.

Drinking was more of a habit for Woodhouse than an addiction, he said. He said he went through long stretches of not drinking anything. But after leaving Americans for Prosperity in 2013, he was often alone, and he drank more frequently.

During Tillis' victory party in 2014, Woodhouse had too much to drink before an appearance on live television.

Wearing sunglasses and a red Tillis hat, he bragged about pouring millions of dollars into the campaign through Carolina Rising. He slurred his speech and stumbled a bit as he walked. The interview spread quickly on the internet.

He said he hasn't had a drink since.

"It's still the darkest moment in my life," he said. "I just decided right then and there that that was never going to happen again or anything like it. Part of it was professional; part of it was this is just not what you want to be doing. You worry about any kind of image you leave for your kids."

[…] 

When Woodhouse was named executive director of the NCGOP in October 2015, the party's office on Hillsborough Street was dilapidated, staffers worried about getting paid and there was very little money left in the bank.

Fighting among factions of the party culminated in April 2016 when the NCGOP executive committee removed the party's chairman, Hasan Harnett, and replaced him with former U.S. Rep. Robin Hayes of Concord.

Since then, Hayes and Woodhouse have worked to steer the ship back on course.

In 2016, Republicans had mixed success. They saw North Carolina vote for Trump, re-elect Sen. Richard Burr and maintain GOP control of the General Assembly. But Republican Gov. Pat McCrory lost, and Democrats took control of the state Supreme Court.[…]