The Daily Bob: Who AM I ?????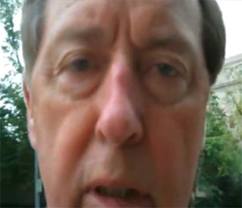 The N&O — the flagship publication for all things leftist here in The Carolinas — is taking the right Rev. Bobby Etheridge to task for not showing enough passion on the two issues they see as MOST important in these trying economic times: the gay marriage amendment and a sales tax increase: 
Democratic gubernatorial candidate Bob Etheridge's campaign got off to a bumpy start Monday, when he sought to clarify his positions on two of the most difficult issues of the governor's race – raising the sales tax and a constitutional amendment banning same-sex marriages and civil unions.

Etheridge, the former congressman, skirted both issues Friday, his first day as a candidate, declining to take a stance at a news conference.

But on Monday, Etheridge said he would support Democratic Gov. Bev Perdue's proposal to restore a 3/4-cent sales tax to fund education that the legislature repealed last year.

He also said that while he opposed gay marriages, he would not support the constitutional amendment on the May primary ballot, saying the state law banning same-sex marriages was sufficient.

"I didn't handle it as well as I should have," Etheridge said of his earlier explanation of his position on gay marriage.

The move by Etheridge was awkward, especially for a seasoned political veteran. But in both instances, it quickly moved Etheridge more into the mainstream of the Democratic primary field that also includes Lt. Gov. Walter Dalton and state Rep. Bill Faison of Orange County.
I am sure Ol' Bobby sleeps better at night knowing The N&O is showing so much sympathy and concern for his media relations operation.  But I have one thought on his gay marriage position:  If state laws banning gay marriage are sufficient, why is it now legal in Massachusetts, California, and New York? 
******ATTENTION OPPOSITION RESEARCHERS:  When Bobby first ran for Congress in 1996,  against incumbent Republican David Funderburk, he made a BIG DEAL about a car accident involving Funderburk and his wife.  His friends in the mainstream media were also quite concerned about the wreck.   (A Google search dug up 644 stories regarding the Funderburk wreck.)
What we DIDN'T hear about was a car wreck about a year earlier involving then-DPI Secretary Etheridge — driving a state vehicle — and a private citizen.  The other party was a young female dental assistant.  At the time, I was a member of the mainstream media.  I got tipped off by a member of law enforcement frustrated over the amount of attention Funderburk's wreck had been getting.
I contacted the young woman.  She spoke favorably about Etheridge.  But she clammed up and got quite defensive when I asked for details about how the accident got settled up with insurance and law enforcement.  The woman DID confirm that she landed a new, higher-paying job within state government.
It sure would be interesting to know if taxpayer-funded state resources were abused in making this accident — involving a high ranking state official behind the wheel of a state vehicle AND a private citizen in a private vehicle — go away quickly and quietly.
(FYI:  My story was spiked by my then-publisher — who was an Etheridge family friend.  He claimed that printing that story would look too much like we were aiding Funderburk.  But apparently printing stories ad nauseum about Funderburk's wreck was OK.)