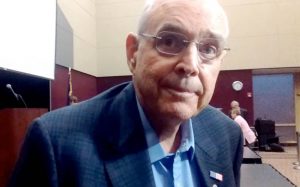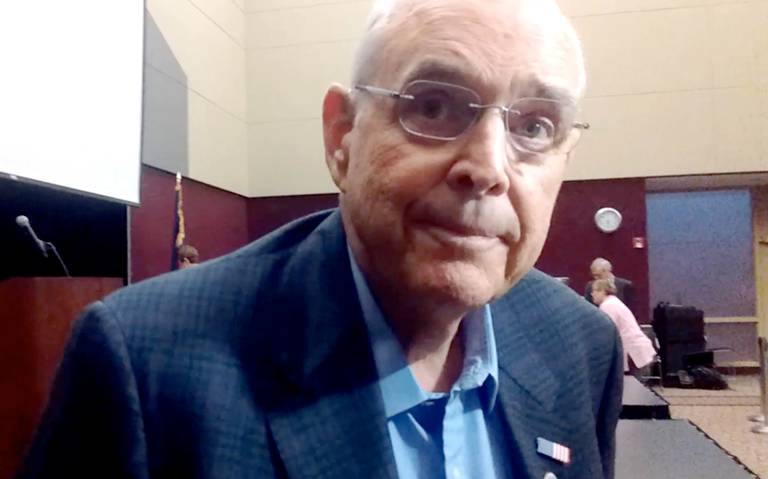 The more I see Robin Hayes in action, the more I understand why his mush-mouthed grandson is out front and on-camera speaking for the party so often.   
Hayes's public appearances are marked more and more often with outlandish behavior — scowling, threats, insults, stomping off-stage or just completely not making sense.  It's quite curious for a guy heralded by the establishment as THE BEST CHOICE for a job whose main duty is to cheerlead for and promote The North Carolina Republican Party. 
The NCGOPe is contorting itself into a pretzel to try and help the man survive a challenge from Lee County GOP chairman Jim Womack.  They've paid for a "Shareholder's Report" to promote Hayes.  They've provided party resources to Hayes's election campaign that are being denied to Womack's.  Now, it appears the state party has produced a Facebook video featuring an on-camera Hayes clearly reading from cue cards. (Oh, it's quite the treat.)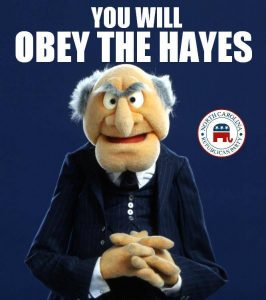 Here's one of the, um, "best" parts of the video:
"[…After sweeping the council of state and fully returning our supermajorities in the legislature, we have already passed legislation that will benefit Republicans in future elections — and help everyone keep more of their hard-earned money.  Tax cuts for the middle class. Fought back hard against the liberal agenda.  I am proud of the work our elected officials have done and can't wait to see what else is in store.[…]"
Okay.  First, I can't recall the GOP ever sweeping the council of state races.  EVER.  (It's hard to tell if this is some doddering confusion, or outright attempt at deceit.) 
I thought that MAYBE this video was done during his previous term as chairman.  Pat McCrory and Dan Forest took the top two seats on the council of state during that tenure.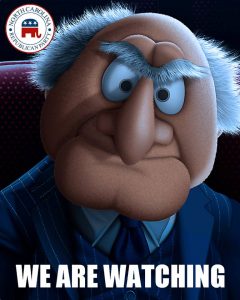 But, no. Hayes references later in the video the state GOP convention in Wilmington featuring heavyweights KellyAnne Conway and Alberto Gonzales.  The video was made THIS YEAR.  The party picked up the DPI and Insurance seats in 2016, but LOST the governor's race and a very winnable open seat for AG.   (AND the chief justice seat on the state supreme court.) Certainly not a sweep. 
Also — What do you mean "we," paleface? 
Hayes left the legislature in 1996 for an ill-fated run against incumbent Gov. Jim Hunt.  (At one point in that race, Hunt was leading him 75% to 25%.  The drivebys were projecting it to be the worst beat-down in the history of North Carolina gubernatorial races.   And, as luck would have it, the team that surrounded Hayes that year is now reaping all kinds of benefits from his current chairmanship of the party.) 
My all-time favorite Hayes video featured him doing his best LBJ impression — "You're either with Robin, or you're against Robin" — while intimidating the North Carolina delegates to the 2012 Republican National Convention.