Four legs good, two legs bad: NC edu-crat buffoons embarrass us 'round the world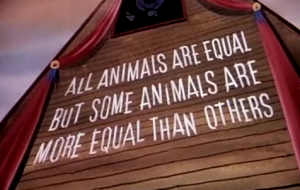 Here's ANOTHER piece of evidence proving the four-legs-good-two-legs-bad crowd (too bad most of our school age kids can't tell you the origin of that reference) has WON in the public education arena: 
A North Carolina high school has confiscated all its senior yearbooks and is reprinting them because it believes a white female student's 'build that wall' quote was inappropriate.

Richmond Early College High School is a predominantly white public school in Hamlet, North Carolina, with 214 students. 

Its staff recalled its senior yearbooks this week after a screenshot of one female student's photograph and quote appeared on social media, sparking accusations from critics that the state is 'racist'.

The blonde student, who beamed in her posed-for photograph wearing a string of pearls, gave the Trump campaign slogan as her quote for the book and attributed it to the president.  

Teachers now say that the remark amounted to 'inappropriate conduct' which it would not 'tolerate'. […]
Wow.  They OUGHT to be proud that they actually have ONE graduating senior who can quote a U.S. president.   Sure, several of them could give you the lyrics to the latest Beyonce track verbatim.  But a presidential quote? 
MORE: 
[…] It recollected the 22 yearbooks which had already been distributed among students and is reprinting them. 

The decision had divided opinion among residents on social media. Some agreed with the decision while others said it infringed on the girl's first amendment rights.

The student did not face any disciplinary action and it is not known what her new quote will be.

In a statement, Richmond County Schools said there were also 'errors' in the yearbooks which had been put together by students.

'Earlier this week, it was discovered by school administration that Richmond Early College yearbooks had errors and inappropriate comments. […]
"Errors."  Suuuuuuure.  You should flip through my high school yearbook and count the people discreetly (and some not so discreetly) giving the finger to the camera.  There was no recall of our yearbook.  
MORE: 
[…] 'The principal immediately collected the distributed yearbooks. 

'We regret that this incident has occurred and are currently working with the yearbook's publisher to make corrections.

'As a district, we do not and will not tolerate inappropriate conduct toward any of our students.

'In each situation, our goal is to provide for the well-being of all of our students and prevent recurrences of inappropriate conduct,' it said.

Some welcomed it, claiming the quote, which refers to President Trump's plan to construct a wall along the Mexican border, is offensive to the school's Hispanic students. 
O-M-G.  The quote refers to a measure to enforce the existing law.   Why would it offend you if you came into this country lawfully and legally?  (And if you didn't, who cares if you're offended?) 
As I said:  Four Legs Good.  Two Legs BAD.