State pushing land deal that could benefit Bev's son, Dem politicos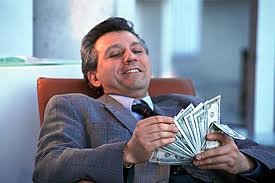 The Associated Press is reporting that the state is offering an economic development package to an industry that includes land owned by a team that includes a Democrat state senator and one of Boss Bev's appointees:
A state lawmaker and a group of Democratic political donors with ties to Gov. Beverly Perdue are poised to sell land at a handsome profit for a tire plant that's being lured with $100 million in state and local incentives, according to public records reviewed by The Associated Press.
As North Carolina's chief executive, the governor is a key decision maker in large incentives deals involving state money. She also helps appoint the board members of a foundation that's been asked to provide part of the tire plant's package. Perdue's campaign has received more than $52,000 from five men with an ownership stake in the Brunswick County industrial park proposed for the new facility.

The governor's son, Garrett Perdue, is also a lawyer and site-selection consultant for an influential law firm that a county official said was advising the tire company. The firm, Womble Carlyle Sandridge & Rice, does not disclose which projects the younger Perdue works on, citing attorney-client privilege.
Of course, Bev's beleaguered and overworked damage-control team is denying anything fishy is going on here.  They claim the company in question targeted the site, and that Bev's team had nothing to do with the choice of real estate.
The proposed location, the Mid-Atlantic Logistics Center, is owned by a group of investors that includes state Sen. Michael P. Walters, a Democrat from Proctorville.

A development company owned by David T. Stephenson III, a Lumberton tobacco farmer, is also listed as having a stake in the center. Stephenson is a major Democratic contributor appointed to the board of Golden LEAF, a foundation created by the state legislature to dole out hundreds of millions of dollars paid by cigarette manufacturers through a legal settlement.

Brunswick County officials have asked Golden LEAF for a grant to help fund an incentives package for the plant, said the county's top economic development official.

The deal is expected to include tax breaks, infrastructure improvements, cash grants and a forgivable loan. It's not clear how much money the foundation might put in. The new facility, code named by economic development officials as "Project Soccer," has been billed as creating up to 1,500 new jobs.

A confidential document outlining the terms of the proposed deal reviewed by The Associated Press indicated that money from the incentives package would be used to buy a large portion of the 1,129 acre site for the tire plant at a price of $6,000 an acre.

Records show the investors bought the site in 2007 for $4.3 million, or about $3,800 an acre.
Let's see:  Bev's administration, facing a tough reelection fight next year, is pushing a SWEET real estate transaction that would benefit Bev's son's law firm and some Democrat donors and politicos.  Nah.  Nothing fishy about that.