State of The State silliness
I know I'm a little late getting to this.  (But here I am.)
Our silly governor's state of the state speech is important to folks living and working between Jones and Blount Streets in Raleigh.  The political class TRIES to make the event as *exciting* as  DC's State of the Union.  But it usually gets aired on PBS and uploaded on YouTube — and that's the end of it.
It's pretty clear Ol' Roy has visions of DC dancing in his misshapen head.  He's jetted off for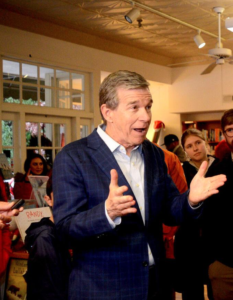 some secretive meetings with F. Joe Biden at The White House while Kamala was out of town. Thom Tillis' Senate seat opens up two years after Cooper has to leave the governors office.  Cooper is about the strongest thing the Dems have to throw at that effort.
During the state of the state speech, the doofus even called out various people in the audience as props for his speech's anecdotes — kinda like every president since Clinton has done at The State of the Union.
During his speech, Cooper praised legislative Republicans for giving him just what he wanted on Medicaid expansion.  It was interesting to note less than HALF of the assembled Republicans applauded that shout-out.
Instead of providing a real contrast to Cooper and helping out the party's 2024 nominee for governor, the Republicans allowed themselves to be seen as partners to Cooper's mischief.
Cooper boasted about his administration's support for electric vehicle manufacturing and how that industry will be key to boosting North Carolina's economy.  Never mind that VinFast — the Vietnamese company Cooper, et. al., threw a bunch of tax money at to lure to The Triangle — is now supposedly delaying their pending NC operation until 2025.  AFTER COOPER LEAVES OFFICE. ( If it never happens, he won't be around to blame.)
Amid his cheerleading for electric cars, Ol' Roy neglected to mention that the demand for electric vehicles is taking a nosedive.  (Tell us again how this is going to boost our economy if nobody wants it.)
Also, there is that little sticking point about repair bills for electric cars being much, much higher than for standard gas-powered vehicles.   No joke — I have a friend who owns one with a recently failed electrical system.  Cost to repair is nearly TWICE the value of the car.   Cooper and his green buddies don't like talking about stuff like that.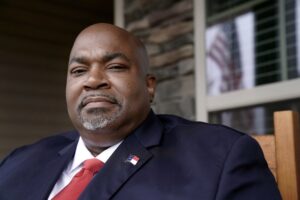 We got a lot of cheerleading about Lt. Gov. Mark Robinson's GOP response to Cooper's speech.  It was good to see Robinson back in state.  He's been spending a lot of time out-of-state selling books and making speeches and staying off the radar.  *Word IS that you need to show yourself to registered voter-types occasionally if you want to become governor.*
Robinson talked a lot about himself. He didn't have a whole lot to say about Cooper's foolishness, failures and out-and-out bullshit.  Robinson didn't do much to provide a contrast between the NCGOP and Cooper — or Josh Stein, for that matter.  It would have been a nice speech for him two years ago when he was running as a political unknown.  But we expected something a lot more substantive from someone who has been in the #2 job for two-plus years now.  (Forgive my pessimism, but I have visions of Dan Forest déjà vu all over again in 2024.)