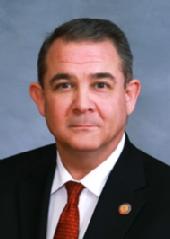 I had such high hopes for state Rep. Stephen LaRoque (R-Kinston).  When he first came to the legislature, he was joined at the hip with former state Rep. Richard Morgan and his sweetheart deal with House Democrats.  LaRoque lost a bruising reelection fight, as did Morgan.  LaRoque got back in the House and rediscovered conservatism.  He has recently stood tough against the racial shakedown artists at the NAACP, and strongly defended GOP efforts to trim the state budget.
LaRoque's new image as an outspoken conservative may have helped him attract more attention and scrutiny than he bargained for.  NC PolicyWatch, a leftist public interest group based in Raleigh, has published a rather troubling report detailing allegations of LaRoque reportedly blurring the lines between his public responsibilities and his personal affairs:
Among the investigation's findings are:

LaRoque received $100,000 to $195,000 a year in compensation as the sole employee of the small non-profit—much more than what others running similar organizations made.
He stacked the board of directors for his non-profits with immediate family members, a move that runs afoul of both IRS and USDA guidelines.
He used the non-profits to loan federal money to close associates, including loans of $100,000 to $300,000 to a board member, the private law firm he uses for political lawsuits, his wife and two fellow GOP legislators.
The USDA admonished LaRoque in 2010 for making loans above a $250,000 cap on loans, including $2 million a single developer received

The investigation relied on interviews with former East Carolina Development Company board members, borrowers and USDA officials as well as hundreds of pages of federal tax documents, court records and public information obtained from the USDA.

The USDA's national IRP program loans money to non-profit groups like LaRoque's at a one-percent interest rate, so that the intermediaries can in turn lend out the money at reasonable rates to small businesses in rural areas blighted with poverty. Since 2003, the federal government's given out $280 million for the program, $25 million of it in North Carolina where 17 intermediaries like LaRoque currently manage the federally-backed loans.

The program limits itself to non-profits, public agencies and tribal governments, one safeguard in place to ensure that lenders hand out the federal money with the primary goal of creating jobs in their communities, and not to use the flush of federal cash to enrich themselves.

In his initial application for funds in 1997, LaRoque promised to pay himself $30,000 in the non-profit's first year and recruit a board of directors with community members from each rural county he offers loans in. Neither of those pledges held true over time.

Between 2002 and 2009, LaRoque received annual compensation of $100,000 to $195,000 a year as the only listed employee for East Carolina Development Company, according to publicly available tax records. The compensation is categorized as direct compensation some years, and as a contract he had with the non-profit in other years.

The pay is generous, and anywhere from $20,000 to $100,000 more than what's earned by his counterparts in the state doing similar work.

Walter LaRoque, LaRoque's brother and a board member of both non-profits, said Stephen LaRoque is paid through a contract based on performance and the non-profit's assets.

LaRoque, the co-chair of the powerful N.C. House Rules Committee, turned down multiple requests to speak with an N.C. Policy Watch reporter about the investigation's findings. He agreed to answer questions in writing on July 14, but never provided answers to detailed questions sent to his legislative email address. He also did not provide a copy of his most recent federal tax filings available for the two non-profits, despite IRS regulations that require tax-exempt organizations to make the records available for public inspection upon request.

LaRoque has defended his pay in online forums he frequently participates in, maintaining that the compensation he gets comes from funds that borrowers repaid to his non-profit and is not, in his eyes, coming from taxpayer sources. USDA records show the non-profits made loans to more than 40 businesses since 1997, a handful of which went to those with close ties to LaRoque.

"I've never received one cent of taxpayer money to pay my operational costs," LaRoque wrote in June on an online comment board at the Huffington Post. "Name another non-profit that can make the same statement. I work under a contract for services with both non-profits."
NCPolicyWatch's investigative report indicates that federal regulators may have an interest in the legislator's business activities:
But the question of whether the money is public isn't as settled a matter with the USDA.

The money that borrowers repay the non-profit lenders still fall under strict restrictions within the USDA program, though non-profit lenders are allowed pay their operational fees out of the interest and repaid funds from borrowers, according to the federal rules that govern the program.

A scathing June 2010 report from the USDA's Office of the Inspector General office found significant problems with the national Intermediary Relending Program, taking particular issue with the USDA giving contradictory messages about whether those repaid funds are public. The report called for the Rural Development division to begin defining the money as federal dollars.

The report also found $7.9 million in funds, $4 million from LaRoque's non-profit, were loaned out improperly and called for the money's return to USDA.

The agency expects to make a final decision in the coming weeks about whether it will demand the federal funds be repaid to the USDA, said Jay Fletcher, a Washington-based spokesman for the Rural Development division.

Inspectors looked specifically at LaRoque's intermediary, identified as Intermediary F in the report and later identified as LaRoque in court filings. The USDA inspectors found that the non-profit exceeded the program's lending cap of $250,000 on several occasions, including more than $2 million in loans that went to a Kinston developer.

Doug Freeman, the former developer who now runs a lawn care business, said the most of the loans from LaRoque's East Carolina Development Company were for an unsuccessful project to built multi-family housing in Greenville. The souring economy at the start of the recent recession halted the project, and Freeman said he paid back most of the loans, and had no issues working with LaRoque. Freeman wasn't aware his loan exceeded the cap at the time. In retrospect, Freeman said he wish he hadn't borrowed so much.

"The economy at that time was too free, the banks were too free and the program (IRP) was too free," Freeman said. "But the program did work, everyone was just taking off more than they could at that time."

As for the monitoring of LaRoque's non-profits by the USDA, the agency's Rural Development office in North Carolina fell short in its oversight of the program until recently, N.C. Policy Watch found.

The agency neglected to conduct a required annual field visits of LaRoque's non-profits for four years in a row. Audits submitted to the USDA each year raised concerns about LaRoque having sole control over the organizations' finances and records, but USDA officials never demanded changes.

Program heads also said they were not aware of LaRoque's high compensation and questionable loans until brought to their attention by an N.C. Policy Watch reporter.

Randall Gore, the North Carolina director of USDA's Rural Development division said the agency typically depends on the structure of its participating non-profits, which have boards of directors, to thwart excessive compensation and inappropriate loans. Compensation of individual directors isn't reviewed regularly.

"We have very little say-so as to what he paid himself," Gore said.
The report also showed LaRoque's group made loans to some LaRoque friends and allies in the legislature:
USDA records also show LaRoque also used his non-profit to lend helping hands to fellow GOP legislators and the law firm he uses for political spats.

State Sen. Debbie Clary and state Rep. Mark Hilton, both received loans from LaRoque's Piedmont Development Company of over $100,000 to help their private businesses, according to USDA records.

The loans were two of just a handful approved at Piedmont Development Company, the non-profit he set up in 2003 to serve the western part of the state.The non-profit hasn't made any loans in recent years, and risks losing some of its federal money because of inactivity, according to a letter USDA staff sent to the non-profit.

Pleasant, the USDA official, said nothing prevents LaRoque from lending money to fellow legislators, but added that the agency didn't receive any disclosure of a possible conflict of interest from LaRoque.

The USDA does caution against lending money to those who hold a "legal or financial interest or influence" over the lender, according to the federal rules of the program.

Clary got $101,250 for Millennium Marketing, her Shelby, N.C. marketing firm in 2006, when both she and LaRoque were serving in the N.C. General Assembly. Paperwork with the loan indicates it helped save two jobs.

Hilton received a $150,000 loan in 2007 for "Hilton Ventures," a rental property management company he owns along with his wife, brother and sister-in-law in Conover, according to USDA and N.C. Secretary of State records. Hilton was in the legislature at the time, but LaRoque was not.

Attempts to reach Clary were unsuccessful, and Hilton did not respond to phone and email requests seeking comment.

LaRoque's own lawyers at the Diener Law Firm in Snow Hill, the county seat for Greene County, took out two working capital loans totaling $150,000 from East Carolina Development Company in 2008 and 2009, according to USDA records.
I will consider the source before passing judgement here.  I will also remember that Mr. LaRoque is an American with the right to be considered innocent until proven guilty in court. (I hope the whole story is blown way out of proportion.)  But the facts presented in this report by NCPW are troubling, to say the least.
In 2010, voters gave the NCGOP the reins of power on Jones Street to end business-as-usual and clean up the state's affairs.  Behaving in a manner similar to the good ol' boys in the Democrat machine who were just thrown out of office is a great way to cut the GOP reign on Jones Street VERY SHORT.
In politics, appearances can be nearly as — if not more — troubling than the reality.  This needs to be fully investigated and either: fully dismissed and put to bed, or prosecuted to the fullest extent of the law.  Letting it hang out there, unaddressed, is like leaving a dead fish out in the sun.  It's going to really start to stink, and people are really going to get upset.