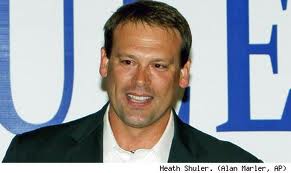 A Hendersonville radio station and a western NC TV station are  reporting that 11th District congressman Heath Shuler (D) is "seriously" considering a race for governor, and should be making an announcement "in a few days."
The 2011 redistricting plan made Shuler's district more Republican leaning.  If he jumps into the governor's race, the odds for a GOP pickup of the 11th district get MUCH better.
So, let's call ROLL:  Shuler, Dalton, Faison, McIntyre, Moore, Foxx, Bowles and Etheridge.  That's ONE crowded Democrat gubernatorial primary.  And what's funny — I am hearing EVEN MORE big names behind the scenes.