Richard Morgan &Thom Tillis ally Stephen Laroque INDICTED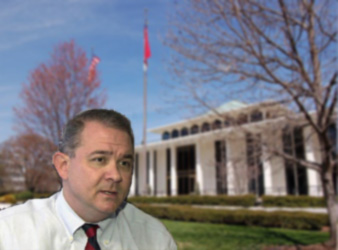 State Rep. Stephen Laroque (R-Kinston) has been dogged by bad publicity about his private business dealings for a year.  He barely lost his primary race in May.  NOW,  he's been indicted by a federal grand jury on charges stemming from his private business's handling of government money.
It will be interesting to see the political implications of this indictment.  Laroque is a close ally of House Speaker Thom Tillis, who appointed him chairman of the powerful House Rules Committee — which decides what legislation makes it to the floor for a vote.  Both Tillis and Laroque have roots in a political clique spearheaded by former legislator Richard Morgan — who is on the ballot today in the GOP runoff for insurance commissioner.
Laroque supported Morgan's controversial power-sharing deal with Jim Black in 2002.  Tillis was recruited by Morgan in 2006 to run in the GOP primary against conservative legislator — and Morgan critic — John Rhodes.  With Morgan's help, Tillis knocked off Rhodes.
Tillis took a long time to comment on the allegations against Laroque.  He let Laroque keep his committee chairmanship while the bad publicity swirled.
Thom Tillis has been racking up quite a bit of bad publicity lately:  his staffers' affairs with lobbyists, the flier affair at the NCGOP convention, and the meddling allegations in that Outer Banks House race.  Now, he may have to answer for standing by his man Stephen Laroque.
If the GOP holds on to the majority in the state House past November, it will be interesting to see if the House Republican Caucus stands by their man when it comes time to elect a speaker.