GOP women's group blasts Berger & co.'s meddling in SD-25 primary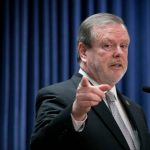 One of the largest Republican Women's groups in the state, Moore Republican Women, is speaking out via president Pauline Bruno about the activities of the affiliated committee controlled by Senate president Phil Berger:
Moore Republican Women is very unhappy with the intrusion

of the North Carolina Senatorial Committee in our redistricted

North Carolina 25 election.

We have two members (Tom McInnis and Michelle Lexo)

running against each other. The use of the frank (reduced

cost mailing) of the North Carolina Senatorial Committee is a

de facto endorsement of one candidate over another.

We, as a unified club, resent this meddling into our decision

making. It is an infringement on our rights as "of the people,

by the people, and for the people."

By use of the frank, an unfair financial and psychological

advantage is given to one candidate.
The statement appeared in the May edition of the group's newsletter.  The newsletter also featured THIS piece of unsigned "poetry":
'Twas the month fore election,

when all thro' Moore County,

a trio were working,

toward a Senate seat bounty.

Mailboxes were jammed,

voters blinded by glossies,

touting talents of all,

"some" paid by GOP bossies.

When what to our wondering eyes should appear,

but nifty campaign signs on roads far and near.

AND THEN THEY WERE GONE..at least Michelle Lexos's

signs were removed; the rest intact.

No rhyme or reason, just plain dirty politics.
I don't know about you.  But I would hazard a guess that these ladies are a wee bit upset.