Renee's Big Moore County Adventure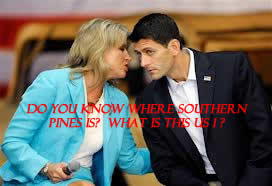 Renee Ellmers, the doyenne of the Raleigh and DC GOP establishment, decided to grace us with her presence Monday night.  She was a scheduled speaker at the meeting of the Moore County Home Builders' Association.  The meeting was held at Locust Lumber, which fronts US 1 — a major highway — in Southern Pines. (  This business is about an hour away from her home in Harnett County. )
Renee showed up late — explaining that she got lost.   A local business leader, who happened to be in attendance at Monday's meeting, had this observation:
"The event was held at a huge building with a big sign that fronts U.S. Highway 1 — a major thoroughfare in our great state, that happens to run through her congressional district.  Thirty days in front of the election is a heck of a time to still be learning your way around your district."
The business leader noted that Ellmers's reception was a lot more subdued than the one the group has given Congressman Howard Coble in the past.
Renee must have been traumatized by the experience of driving to Moore County on US 1.  She passed up a chance to participate in a League of Women Voters candidate forum tonight in Pinehurst.  (The emcee said Ellmers gave regrets, citing a "prior commitment." Sources tell me the "prior commitment" was, in fact, a fundraiser.  )
Wow.  Can't let another fundraiser get in the way of introducing yourself to the new residents of your congressional district.  Maybe she'd come see us more often if we waved a few dollars at her. (Or bought her a GPS.  Or a map … )