RED LIGHT, GREEN LIGHT: Thom Tillis, NCGA's heavy-handed traffic cop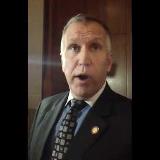 In the run-up to the 2010 elections, we heard a lot of sob stories from NCGA Republicans about how heavy-handed and unfair the Democrats were to them when they ran the legislature.  A Republican legislator from Cabarrus County has stepped forward to shed some light on how House leaders are badgering conservatives and helping to water down conservative initiatives.
Rep. Larry Pittman (R) made his remarks at a recent Tea Party meeting in his district (fast forward the linked video to about the 12:00 minute mark). 
Some of the more interesting revelations from Pittman's remarks:
Apparently, the speaker's office has a color-coding system they apply to bills before sending them to committees for discussion.  "Red" means the bill is going NOWHERE.  "Yellow" means its going nowhere FOR NOW.  "Green" means Speaker Thom approves wholeheartedly.  Pittman said all of his efforts to reform the state's concealed carry law and protect the Second Amendment are currently coded "Yellow."
Remember the whole "official religion" hoopla?  Pittman gave an interesting inside take on the affair.  He told the crowd the bill's sponsor realized he made some errors — in the wake of the initial publicity — and wanted to amend it to make it a whole lot more kosher.  Pittman said THAT legislator was approached by " a source close to the speaker" who told THAT legislator he needed to cease and desist with the bill or his future legislative endeavors will NEVER NEVER NEVER NEVER NEVER NEVER NEVER EVER see the light of day.   It's nice to see that an unelected hack pulling in a taxpayer-supplied salary bullying an elected representative of the people.   I guess all that talk about

never

going back to the iron-fisted dictatorial ways of Richard Morgan, Jim Black, and Marc Basnight was just THAT — talk.
Pittman told his audience that many decisions within the House majority are made in light of Speaker Thom's upcoming Senate campaign.  Legislators are seriously and frequently told to back off certain tactics that might cause problems for the Senator-in-Waiting.  Wow.  The lower chamber of our state legislature has been morphed into an arm of the Tillis for Senate campaign.
Pittman has been an ardent opponent of common core standards in public education.   Common core is a sore subject among Tea Partiers, conservatives, and other grassroots activists across the country.  According to Pittman, Rep. Linda Johnson — Tillis's hand-picked education committee chairman — is openly singing the praises of common core.   Again, Tillis does not appear to be saying or doing anything to dissuade her from this position that aligns more closely with lefties than the GOP.   Don't want to rock the boat for that Senate campaign. 
You have to admire Pittman's courage. His spirit and passion reminds me of former state Rep. John Rhodes (R) — an outspoken critic of former House speaker Jim Black and his pet Republican Richard Morgan.  Morgan and Black got tired of hearing Rhodes.  Morgan and his cronies went looking for a primary opponent for Rhodes in his GOP-leaning district in Mecklenburg County.  They found their candidate, loaded him up with cash, and sent him after Rhodes.  Morgan and Black's candidate was successful — knocking out Rhodes in the 2006 GOP primary.  Who was this candidate recruited by Morgan and Black to knock off  the conservative crusader John Rhodes?   THOM TILLIS.