Red Light, Green Light: The Pilot labels Democrat's "mistake" a GOP dirty trick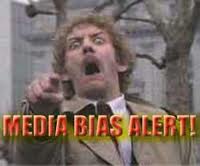 The Democrat machine operatives who own — and control the editorial content of — our thrice-weekly Emmy Award-winning, Nobel Prize-nominated local newspaper are at it again: stretching the truth and twisting the facts to protect Bev Perdue, Barack Hussein Obama and all things leftist.
This time, we are being told that the Republicans are big ol' meanies because a Democrat legislator couldn't change her vote:
D espite secret deals, questionable tactics and back-room arm-twisting, Republican legislative leaders in Raleigh can at least claim that two of last Monday's three late-night overrides of Gov. Beverly Perdue's vetoes were arrived at fair and square.

But surely nobody can claim that those words apply to the third override, the details of which again qualified North Carolina for national ridicule – as if we needed any more of that in the wake of such embarrassing episodes as the one in which it was ordered that our state will officially ignore any predictions of future rises in sea level, despite overwhelming scientific consensus to the contrary.

The subject of the third veto override, giving the go-ahead to that troubling method of natural gas extraction known as "fracking," is of extremely high interest to Moore County and a couple of its neighbor counties to the north, since we sit atop shale-oil deposits that make us a prime target for that environmentally threatening procedure.
What is this all about?  Surprisingly, we have to turn to The N&O to get some facts to shed some light on the matter:
Charlotte Democrat Becky Carney stood on the House floor Monday night with her mouth agape. She looked horrified. Embarrassed. Sick to her stomach.

Moments earlier, she cast the deciding vote to override Gov. Bev Perdue's veto on a bill to advance natural gas exploration. The problem? She opposed the bill. Voted against it days earlier. And now she made it law.

Yes, the state of North Carolina approved fracking, one of the most controversial pieces of legislation this year, by accident.

The 10-year veteran lawmaker hit the wrong button on her desk. Carney punched the thumbnail-sized green button that says "AYE" just above the red one that says "NO."

"Oh, my God," she said on the floor. "It won't let me change my vote."

For all the maneuvering, arm-twisting and political horse-trading Republicans employed to get a handful of Democrats to void their party leader's veto just before 11:30 p.m. Monday, it came down to a mistake.

"You ever see my golf game?" said state Sen. Bob Rucho, a bill sponsor, after the vote. "It's based on luck, not on skill."

Carney tried to reverse her vote but Republicans blocked it. Democrats called the move "disgraceful."

House Speaker Thom Tillis said he was comfortable with the process. "There's a green button and a red button; they should know which one to push," he said.

In the glow of TV camera lights, just before midnight, this is how Carney said happened:

The vote took her by surprise. Republicans limited debate on the fracking legislation – Senate bill 820 – and called the vote. Green button to override. Red button to sustain.

Carney hit the button and looked to the board above the chamber that shows the results: 72 to 46. The color next to Carney's name matched the Republicans.

She panicked. She hit a different button to turn on her microphone and called to the House speaker on the dais. He didn't recognize her. So she rushed to the front, 20 steps from her seat in the eighth row down the red-carpeted middle aisle.

Carney asked the clerk to check her vote. Green. Override.

She then asked Tillis if she could change her vote. Tillis said House rules prevented it.

Lawmakers mistakenly vote all the time but they are not permitted to change a vote if it affects the outcome.

Carney rushed back to her desk and called to the speaker. She wanted to request the House waive the rules – not an uncommon procedure – to allow her to change her vote.

Tillis didn't respond. He went quickly to his Republican leader, Paul "Skip" Stam of Apex, who moved a "clincher vote" to essentially seal the verdict and prevent reconsideration of the vote. It passed.

[…]
I've worked on Capitol Hill and have seen the whipping process in action. It's not that different from that practiced on Jones Street, I'm sure. The politicians roll onto the floor, and the party whips tell them the party position on each vote (AYE or NAY).   Thanks to the lawyers that run both places, you can sometimes vote AYE to kill a piece of legislation, and NAY to let something go through.  Most legislators don't read bills. They count on staff, lobbyists, and caucus leaders to tell them about them.  
Ms. Carney could have overheard whip instructions from the GOP side, and — being tired — mistook them for her own party's advice.  But that's beside the point. The voters elect you, and the taxpayers pay you, to pay attention to the details when you are in Raleigh.  
(On a side note, The Pilot editorial makes some snide comment about Republicans ignoring "overwhelming scientific "consensus" about sea levels rising.  Opponents of THAT legislation talked about the possibility of the ocean taking thousands of miles of coastal land in 100 years.  Is it fair to penalize coastal landowners in 2012 for something that MAY or MAY NOT happen in 100 years?  
Also, "consensus"  is a term thrown about when votes take place.  Science does not involve voting.  It involves studying clearly visible and identifiable data and drawing conclusions from it. EVERY scientific theory has just as many proponents as opponents.)
Much of the hysteria over fracking driven by The Pilot and other bastions of leftist zealotry originates from a godawful piece of cinematic left-wing  propaganda called 'Gasland.'
This piece from The Energy Tribune has an interesting take on 'Gasland' and the hysteria that it has produced.
It is truly a shame that we are saddled with a local newspaper that thrives on sycophantically repeating leftist talking points.  Thank goodness for The Internet, which provides us with the resources to dig up the facts from both sides of arguments and make up our minds for ourselves.