Raleigh-based conservative education advocacy group targets top aide to DPI's Truitt
The Education First Alliance of North Carolina  (EFA) has filed an ethics complaint against NCDPI superintendent Catherine Truitt's "legislative liaison" James Falkenbury.   (Some may remember Falkenbury as a top aide to former lieutenant governor Dan Forest.)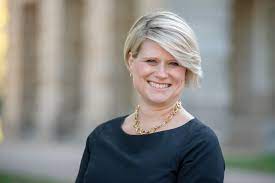 First, let's have a little background.  Here are three versions (HERE and HERE and HERE) of Falkenbury's most recent ethics disclosure statement.  You may notice that his wife, Amanda, is employed by Jason Deans & Associates — a Raleigh-based lobbying firm.
In its complaint with the state ethics office,  EFA alleges that Falkenbury has used his taxpayer-funded position to (a) attempt to publicly discredit EFA and (b) aid his wife's lobbying clients.
Here's the meat-and-potatoes of the complaint against Mr. Falkenbury:
[…] COMPLAINT

Respondent James Falkenbury used his position at the most powerful education agency in the state, the DPI, to take official actions to protect his spouse's clients and employer in violation of G.S. 138A-31(a) and 36(a-b), which prohibit him from participating in taking official actions with a reasonably foreseeable financial benefit, especially if the benefit might impair his independence of judgment in furtherance of the acts.

From the DPI while using his title around April 21, the Respondent allegedly contacted the principals of Americans for Prosperity (AFP) to get a volunteer pictured on EFA's website sanctioned from full-time employment with AFP because of his association with the group. AFP was led to believe that if its employees associated with EFA or Rachmuth in the future, it would lose access to the Superintendent and to the DPI. As a result, EFA lost an integral member of its minority outreach team and the loss of a potential partner group AFP.  This official action was taken days after Rachmuth went on a state-wide speaking tour to rally citizens to defund CRT in schools.

The Respondent falsely claimed to communicate from the DPI while using his title on June 1. Falkenbury sent an email designed to discredit and degrade EFA and Rachmuth to a state-wide audience of politicians, journalists, community leaders, as well as to close friends and colleagues of Rachmuth. James Falkenbury sent the email from his personal email account while falsely claiming that he was representing Superintendent Truitt.  Part of that (attached) email read:

"As you receive any other information from this fringe group, please do not hesitate to reach out to our team directly if something doesn't sound right.  Knowing these people personally that are behind these emails, their purpose is to fundraise first and then market themselves to lift up their profiles second.  If they were not receiving donations for these purposes, they would be muckraking something else to make a buck.  They are using fear and misinformation to stay relevant and confuse the general public and elected officials."

The Respondent's attack came the same day EFA began its public campaign to stop DPI's "Child Spying Program:" surveys, SEL, and CRT. In its communications, EFA explained that invasive psychiatric surveys that could lead to unnecessary diagnosis and treatment by in-school psychiatric clinics, like the one operated by his wife's client Eastpointe Health. The Respondent's attack occurred the day EFA asked for 10K signatures on the state's Federal Grant register demanding taxpayer money stop flowing into all programs using surveys, SEL and CRT– programs like Stride, INC, and the Waterford Institute, clients of the Respondent's wife.  

The Respondent's June 1 email was full of defamation and misdirection. For example, Falkenbury insisted that EFA was lying about the nature of DPI-supported surveys; however, he attached copies of the surveys along with a letter from Pitt County Schools' lawyer who confirmed that surveys were given to students without proper parental notification, and that those surveys were paid for by Federal money dispersed from the DPI. In other words, James Falkenbury knew that he was being deceptive and, thus, he was acting in bad faith. EXHIBIT K

Respondent James Falkenbury's June 1 email, complete with the imprimatur of the DPI, was couched as an official communication to the community to counteract supposed lies. Superintendent Truitt has, however, denied authorizing Falkenbury to send this email to the community on her behalf demonstrating that the communication was not made in furtherance of his duties at DPI. Moreover, even if the Superintendent did ask the Respondent to "correct the record," in this instance he should have removed himself from taking official action against EFA because his "impartiality might reasonably be questioned" due to conflict of interest with his wife's clients and employer. Others at the DPI are equally qualified to issue public statements. EXHIBITS L,M

From the DPI while using his title, the Respondent reportedly persuaded GOP leaders in several counties to cancel and to de-platform Sloan Rachmuth by feeding them false and defamatory information about EFA. James Falkenbury's actions resulted in Rachmuth being barred from open events after she received invitations. He recently urged a county GOP to rescind Rachmuth's invitation to hear the Superintendent speak, and then he influenced a decision by the venue's owners to have Sheriff deputies stand guard at the event to prevent her entry. It is not known if the Respondent has orchestrated the canceling of other activists.

From the DPI while using his title, the Respondent has contacted elected officials, religious leaders, journalists, and donors to discredit Rachmuth immediately after EFA events with them are publicized. Falkenbury has alleged that EFA members are not concerned parents and teachers; instead, they are political actors paid "six-figure salaries," who deliberately lie and defraud. James Falkenbury has never offered a modicum of evidence to support any of these claims. The Respondent's attacks coincide with EFA's calls for to defund the same programs that his boss, the Superintendent, also publicly oppose. Meanwhile his wife is lobbying to fund with taxpayers' money.

SUMMARY

Respondent James Falkenbury has weaponized his position as legislative liaison at the DPI to intimidate, discredit and ultimately to destroy his wife's most significant competitor: Education First Alliance – made up of thousands of activists and led by investigative journalist and mom, Sloan Rachmuth. James Falkenbury's wife gets paid six figures to "dive in front of a moving train and slow it down" to protect her education clients from adverse changes in the regulatory climate. Since EFA's leader and activists are that "moving train," it is understandable, however unethical, that James Falkenbury took official actions both inside and outside of the DPI using his position to protect his wife's clients and her employment.[…]
EFA also alleges that superintendent Truitt appointed Mr. Falkenbury to a non-voting role on the Charter School Advisory Board — which happens to regulate AT LEAST ONE of Mrs. Fallkenbury's lobbying clients.