Racial Justice Act rearing its head again, thanks to lawyers for convicted cop killers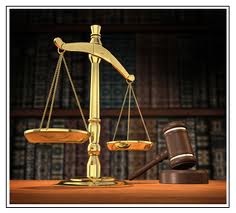 Tilmon Golphin — convicted for the 1997 murders of two North Carolina lawmen — is appealing his death sentence via The Racial Justice Act of 2009.  (For the record, the two officers he helped murder were Native American and white.  Golphin is black.)
Golphin went to federal court in 2007-2008 to try and overturn his sentence — claiming his rights were violated under the equal protection clause.  The court disagreed with that point, so here we are.
Meanwhile, the John Locke Foundation is championing the idea of knocking ALL 16 year old offenders down to the juvenile justice system.  Before you start cheering that idea, read a little about what 17-year-old Golphin and his twin brother did in 1997:
On September 23, 1997, at approximately 12:38 p.m., Deputy Kelly Curtis of the Cumberland County, North Carolina, Sheriff's Department arrived at Exit 52 on Interstate 95 ("I-95") near Fayetteville, North Carolina to provide backup for a traffic stop. ? Once at the scene, Deputy Curtis saw that Trooper Lloyd E. Lowry of the North Carolina Highway Patrol and Deputy David Hathcock of the Cumberland County Sheriff's Department had been shot, and he radioed his dispatcher "Officers down. ? Officers down." ?State v. Golphin, 352 N.C. 364, 533 S.E.2d 168, 185 (2000). ? A North Carolina jury convicted Tilmon Charles Golphin Jr. ("Tilmon") and his younger brother Kevin Salvador Golphin ("Kevin") of the murders of Trooper Lowry and Deputy Hathcock. ? […]

In fall of 1997, Tilmon and Kevin, aged 19 and 17, were living with their grandparents in Greeleyville, South Carolina, having left their mother's home in Richmond, Virginia.  On the morning of September 23, 1997, Tilmon and Kevin caught a ride with their cousin Demetric Mack into the downtown area of nearby Kingstree, South Carolina.  During the drive, Mack noticed that Kevin was concealing a firearm that was later determined to be a Russian-made SKS semi-automatic rifle in a white towel.  Tilmon was not armed and was carrying a book bag.

Around 10:00 a.m., the brothers entered the offices of Financial Lenders, a finance company located in downtown Kingstree. Kevin entered brandishing the SKS rifle, pointed it at one of the employees, Ava Rogers, and demanded her car keys. She gave him the keys, and the brothers then ordered Rogers and a second employee into the bathroom at the back of the store. ? Kevin followed the women into the bathroom and told them to turn around and face the wall.  Both women reported hearing clicking sounds from the rifle while they stared at the wall. After several minutes of silence, the women then heard a vehicle leave the parking lot located behind the building; they exited the bathroom and called 911. Rogers quickly discovered that someone had removed her wallet from her purse, and that her car, a 1996 dark green Toyota Camry, was missing. The Kingstree Police Department responded to the 911 call, and after obtaining a description of the suspects, issued a "BOLO"?1 for the suspects and the vehicle. The license plate and vehicle description were also entered in the National Crime Information Center ("NCIC") database.

That day, Trooper Lowry was patrolling northbound I-95 in Cumberland County, North Carolina. At approximately 12:30 p.m., Trooper Lowry stopped a dark green Toyota Camry at Exit 52 on I-95 because the driver was not wearing his seatbelt.  Lowry approached the driver's side of the vehicle and instructed the driver, Kevin, to sit in the front seat of his patrol car while he performed a routine vehicle registration check. Although Kevin was driving the car, he gave Trooper Lowry Tilmon's South Carolina driver's license.  After Trooper Lowry sent the registration check, the dispatcher responded with a coded message that the vehicle was stolen.  Trooper Lowry requested assistance and told Kevin to exit the vehicle and place his hands on the patrol car. Trooper Lowry then pointed his service weapon at Tilmon, who was in the passenger seat of the Camry. By this time, Deputy Hathcock had arrived at the scene and parked his patrol vehicle parallel to Trooper Lowry's vehicle. Deputy Hathcock then made his way to the passenger side of the Camry and removed Tilmon from the car. Deputy Hathcock patted Tilmon down and began walking him toward Trooper Lowry's vehicle.

At the same time, Trooper Lowry unsuccessfully attempted to place Kevin under arrest, but instead he and Kevin began struggling with each other.  Kevin and Trooper Lowry fell to the ground, scuffling, and Trooper Lowry requested that Deputy Hathcock use his pepper spray on Kevin in an effort to subdue him.  Deputy Hathcock was holding Tilmon by his left arm near the rear of the Camry at this point.  Deputy Hathcock complied, sprayed Kevin, and then attempted to spray Tilmon. Before he could be sprayed, however, Tilmon knocked the canister from Deputy Hathcock's hand and ran back to the Camry, where he removed the SKS rifle from the backseat and then turned to face Deputy Hathcock. Tilmon looked Deputy Hathcock in the eye and fired the rifle, striking Hathcock several times in the abdomen and chest.

Tilmon then moved to the back of the patrol car where Trooper Lowry was on top of Kevin, still attempting to subdue him. ? Tilmon moved alongside Trooper Lowry and fired the rifle into his side at close range, causing Trooper Lowry to fall face-first to the ground.  Tilmon retrieved Deputy Hathcock's service weapon and entered the Camry on the driver's side.  Kevin, meanwhile, removed Trooper Lowry's service weapon, and while Trooper Lowry was still lying face down in the grass, shot him multiple times in the back. Afterwards Kevin ran to the passenger side of the Camry, entered the car, and sped away from the scene with Tilmon.

Several passing motorists witnessed these events, including Dana Blecke, a former emergency medical technician who passed the scene traveling southbound and saw someone lying in the grass in front of a highway patrol vehicle. ? She also witnessed a black male running toward the driver's side of a car parked in front of the patrol vehicle.  Blecke slowed her vehicle, turned around in the median, and returned to the patrol car.  By this point, the other car she had noticed was gone.  Blecke stopped her vehicle and attended to the individual she had seen lying in the grass, who was later identified as Deputy Hathcock, and assessed that he had no pulse.  Deputy Curtis soon arrived at the scene.  At 12:39 p.m. Deputy Curtis radioed dispatch "Officers Down. Officers Down," and requested immediate assistance.  Together Blecke and Deputy Curtis then attended to Trooper Lowry, whom they found face down in front of his vehicle.  They rolled Trooper Lowry over to examine him, but unfortunately found no sign of life.

Meanwhile, Tilmon and Kevin continued northbound on I-95. Another motorist who had witnessed the roadside events, Ronald Waters, had pulled off the road, called 911, and then pulled back onto the road when he saw the dark green Camry drive past him. ? Waters followed the Camry as he talked to the 911 operator, relaying the vehicle's movements. ? Several miles later, at Exit 55, the Camry exited and Waters followed. ? Kevin and Tilmon drove down a small dirt road where they switched drivers and removed the Camry's South Carolina license plate.  Although Waters did not pursue them down this road, he stopped on the on-ramp and monitored their progress while continuing to speak with the 911 operator.  The brothers then drove the Camry to a bridge overlooking I-95 before turning around and driving toward Waters.  When Waters saw the barrel of a rifle pointing out of the Camry, he dropped his phone, ducked down in his seat, and hit the accelerator.  He heard three shots, but he was unable to flee the scene because the shots had disabled his vehicle.  Waters kept his head down until he heard an engine revving. Believing that the Camry had left, Waters raised his head.  He then saw the Camry almost parallel with his vehicle, no more than six feet away, with Tilmon pointing the rifle at him through the Camry's passenger window.  Tilmon smiled at him and then pulled the trigger, but the rifle clicked and did not fire.  Tilmon stopped smiling, and the Camry sped away. Waters was left physically unharmed.

After their encounter with Waters, Tilmon and Kevin reentered I-95 at Exit 55 heading north.  A high speed chase began at Exit 65, where a highway patrol vehicle attempted to intercept the Camry.  The chase continued at speeds approaching 120 miles per hour until Exit 71, when Kevin attempted to exit, missed the turn, and rolled the car over an embankment where it landed on its wheels.  Tilmon and Kevin ran from the vehicle into an adjacent wooded area. Officers from the Harnett County Sheriff's Department, the Cumberland County Sheriff's Department, the Dunn Police Department, and the North Carolina Highway Patrol immediately began searching the area.  Both Tilmon and Kevin were captured shortly thereafter.  Deputy Hathcock's weapon, a Glock 9-millimeter handgun, was found beside Tilmon when he was arrested; Trooper Lowry's weapon, a Beretta .40-caliber handgun, was found under the steps of a home near where Kevin was apprehended.  It was in a cocked position, ready to fire, and only five of the eleven cartridges remained in the weapon.  In addition, police recovered an SKS rifle from the wrecked Camry and Tilmon's driver's license from the front seat of Trooper Lowry's vehicle.

Autopsies were subsequently performed on both Trooper Lowry and Deputy Hathcock.  Trooper Lowry's autopsy revealed that he was shot at least seven or eight times, with the autopsy examiner concluding that several of the shots had been fired from close range.Three .40-caliber bullets and one 7.62 millimeter bullet from the SKS rifle were recovered from his body, and an additional bullet from the SKS rifle was recovered from his body bag.  The autopsy concluded that Trooper Lowry suffered potentially fatal wounds from both the Beretta handgun and the SKS rifle.  Deputy Hathcock's autopsy report provided similar grisly findings, with the autopsy examiner concluding that Deputy Hathcock had been shot four times in the chest and abdomen and once in the wrist.  The autopsy reported that any of the four wounds to his chest and abdomen would have been fatal; ?those wounds were caused by bullets from both the Beretta handgun and the SKS rifle.  Trooper Lowry was survived by his wife and two daughters, Deputy Hathcock by his wife and three sons.

Following their arrest, Kevin and Tilmon were transported to the Cumberland County Sheriff's Department.  Kevin waived his juvenile rights and gave a statement to the police.  Kevin admitted that he and Tilmon stole the Camry in Kingstree, South Carolina, and that they were traveling to Richmond, Virginia.  As to the events on I-95, Kevin provided the following information:

[…]

During their pretrial detention, police intercepted letters from both Tilmon and Kevin containing incriminating statements. For instance, prison authorities intercepted a letter sent from Tilmon to a former juvenile boot camp associate in which Tilmon stated:

YO MAN YOU STILL CRAZY? ? I DON'T CARE WHAT ANY BODY SAY I AIN'T CRAZY. ? THOSE F*CKING PORK CHOPS DESERVE THAT SHIT. THE BEAST (POLICE) TRY TO F*CK ME AND MY BROTHA UP. SO I JUST DID WHAT I HAD TO DO. I AIN'T TRYING TO GO OUT LIKE RODNEY KING. SO I SMOKED THEM MOTHAF*CKAS. ? COP KILLA CK 1x8x7? MAN, I AM GLAD THA WORLD IS COMING TO AN END. I WILL BE OUT BY THA YEAR 2000, SO F*CK THIS WHITE-BOY COUNTRY. ? AMERICA IS ONLY FOR WHITE PEOPLE, AND WHITE PEOPLE ONLY.

(J.A. at 690-91.)

Tilmon signed the letter "TILMON AKA RASILMON." (J.A. at 692.) Kevin also wrote a colorful letter in which he indicated he was on trial "FOR THE MURDER OF TWO BEAST." (J.A. at 706.) ? The letter is signed "JAH RASTAFARI." (J.A. at 707.)

The State introduced evidence, from prison inmate Shaquan Sneed, who was housed near Tilmon, to explain the context of these letters.  According to Sneed's testimony, Tilmon intended to kill Waters because "they had to kill the witness." (J.A. at 712.)  Tilmon referred to his shooting of the police officers as firing at "Babylon." (J.A. at 713.) ? As Sneed further explained: "Caucasian[s] run America.  So, basically you're speaking on the swine, you speaking on the white man, you speaking on the Caucasian man, you speaking on Babylon, you speaking on the USA, you speaking on the beast."  (J.A. at 713.) ? Sneed went on to testify that Tilmon was a Rastafarian, a "buffalo soldier" or "fearless black man," (J.A. at 714), and that the year 2000 had significance for Rastifarians because, in Rastafarian belief, 2000 was the year of Armageddon in which the black man would rise up and overthrow Caucasians as the rulers of America. Tilmon had told Sneed, in reference to the deaths of Trooper Lowry and Deputy Hathcock, "That's two less [Caucasians] we got to kill. ? Yo, that's two less Babylon we got to destroy."  (J.A. at 718.)

[…]
Disgusting.  Racial Justice Act defenders claim this is not an attack on capital punishment.  Yet the defense bar, and their comrades in the General Assembly, have made it nearly impossible to put someone to death in North Carolina.  It is a travesty that these two dirtbags — the Golphins —  are STILL ALIVE FIFTEEN YEARS AFTER these murders.