'Professor Watchlist' calls out alleged anti-conservative bias on American college campuses
Faux news drivebys appear to be alarmed that anti-conservative bias within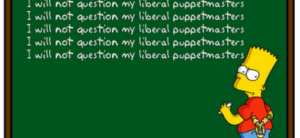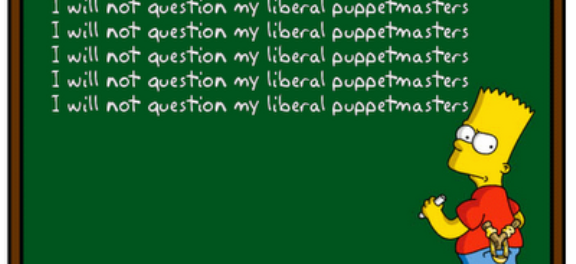 college faculty is being called out.  Why, here's one of those faux news outlets now: 
Enrique Neblett, a professor at UNC-Chapel Hill, says he has never discriminated against conservative students or advanced any kind of leftist or radical agenda in his classroom.

But that's exactly what "Professor Watchlist" accused him and hundreds of other professors of doing. The watchlist is a controversial website with a searchable list of the names of about 200 academics that a conservative nonprofit, Turning Point USA, accuses of discriminating against conservative students and pushing "leftist propaganda" in their classrooms.

A handful of North Carolina professors made the list – three of them at Triangle universities.[…] 
JUST a handful ????  As a former college student AND a part-time faculty member at a number of institutions, I find that surprisingly low.  Here's more: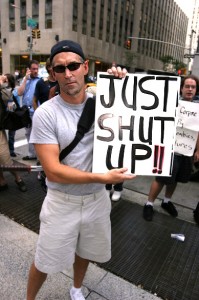 Neblett is an associate professor of psychology and neuroscience at the University of North Carolina with degrees from Brown and Penn State and a Ph.D. from the University of Michigan.

He's also the lab director of the African American Youth Wellness Laboratory at the university. His research focuses on the link between racism and health in black youth, and he teaches courses on psychological disorders of childhood and adolescence; African-American psychology; and racism, racial identity and African-American mental health. He's been at UNC for about eight years, he said.[…]
African -American psychology?  (WTH?)  *We're OK with segregating medical practice now?*
[…] Professor Watchlist claimed that Neblett said health issues faced by black college students are caused by racism.

"He said that stress caused by being exposed to racism is causing black students to gain weight and develop other health issues primarily because they are no longer at home with their parents and have no help in dealing with stress," the website claimed.

Professor Watchlist cited a Daily Caller story and a Red and Black story about Neblett's alleged comments. The Red and Black story, about a research talk Neblett gave at the University of Georgia last year, was corrected, Neblett said, and the online version now has an editor's note that says "the story has been updated to reflect the true nature of Enrique Neblett Jr.'s discussion."

"While UGA issued an update to more accurately reflect my remarks, the Professor Watch List relied, in part, on uncorrected sources that went live before the retraction was issued," Neblett said in an email responding to an inquiry about his inclusion on the list.

As of Friday, Neblett had been taken off the list after he said he contacted the website to explain that the evidence used against him was false.

The Red and Black is the student newspaper at the University of Georgia in Athens. The Daily Caller is a Washington, D.C.-based news and opinion website founded by Tucker Carlson, a libertarian conservative political pundit, and Neil Patel, former adviser to former Vice President Dick Cheney.

Neblett said he thinks it is "unfortunate and unfair" that he was included on the list, especially since he said the reason he was included is inaccurate.

"I have never discriminated against conservative students or advanced a so-called leftist or radical agenda in my classroom as the website alleges," Neblett said in the email. "To the contrary … my classroom is a safe space where all views are welcome, and I actively encourage the expression of opposing views."

The list is disturbing, Neblett said, because people could threaten or harass faculty named on it.

"I worry that the list has the potential to place those on it in harm's way," he said.

So far, Neblett said friends and colleagues have told him about online discussions of the list and threats made to faculty included on it.

"Today I received a screenshot of a comment praising the list and advocating hunting down the professors and '(taking) them out.' " Neblett said Tuesday, adding that he has heard from faculty at other universities about being on the list and has talked to a few students, too.
Hmm.  I guarantee this guy and his pals will use that ONE comment on that ONE website to justify a call for clamping down on "right wing hate speech."  
 Would you say this is as bad as smearing ALL Trump voters as neo-Nazi, hate group members?  Or using inflammatory language against a religious conservative group, smearing IT as a 'hate group', and inspiring a leftist kook to go shoot their offices up?   (Just asking.) 
[…] "My main objection to the Watchlist is that the information reported about me is false," Neblett said. "I did not make the statements that are reported and attributed to me."

Neblett said he thinks being on the Watchlist suggests that his research matters, but "it is also stressful to have to continually defend yourself against false reports and worry about your safety while executing other demands of faculty life.

"Universities should provide explicit support for their faculty who have been unfairly targeted in this way."

Associate Professor Michael S. Waltman, who specializes in interpersonal and organizational communication at UNC, also is on the list.
Holy cow.  What a bunch of bullshit.  (I bet he's being paid six figures for that nonsense.)  Paying tuition to learn how to talk to other people.  
[…] Waltman's research specializes in social and political uses of hate speech, according to his UNC faculty web page. He's been at UNC since 1992, he said.

Professor Watchlist claims Waltman teaches a course on hate speech "that openly blames the political right for its use. His course description reads that it is designed 'to expose students to the nature of hate in American life … sustained through the imposition of racist, sexist, and heterosexist ideologies.' "

[…]Waltman said he hasn't given the list much thought, and learned of his inclusion from former students. But colleagues across the country have reached out since then to show their support for Waltman and his work. He's just continued to do his job, though, he said.

"I've continued to teach and write and serve on committees at UNC," Waltman said in an email.

As for why he was included, Waltman said "the right wing likes to make lists."

"Last summer a right-wing group that is suspicious of higher education found my hate speech syllabus on the Internet," he said. "There were two sentences from my syllabus they found objectionable and a college intern wrote a one-paragraph story and accused me of disrespecting white men."

Waltman has co-authored a book called "The Communication of Hate" with Peter Lang in 2011 and "Hate on the Right: Right Wing Political Groups and Hate Speech" in 2015.

"So I have been critical of some right-wing extremists (not conservatives or one particular political party) and the ways they employ hate speech and sometimes violence to push their views," he said. "But my writing has not only been critical of the right wing. I have also written about hate speech present in the 2008 Democratic presidential primary."

Of the list itself, Waltman said the people who made it are probably trying to get the people they list on it to censor themselves in the future and that the list is "a simple attempt to intimidate people they think might be weak."

Waltman said he's only gotten positive feedback from UNC administrators, his colleagues and students.

Neither Neblett nor Waltman reported any threats as a result of being part of the list.

The only faculty member at N.C. State on the list, associate professor Brent Sirota, specializes in the religious and political history of Great Britain and the wider British world in the 17th to 19th centuries.

Sirota declined to comment on being included on the list. The list claims that in 2012, Sirota took to social media "to dismiss all of vice presidential nominee Paul Ryan's views as 'radically transformative, effectively dismantling the 20th century.' "

The site also claims Sirota called 2012 Republican presidential nominee Mitt Romney a "white male rich bully."

[…]