Pinehurst's Road to Nowhere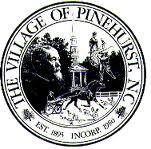 Back in March, we got word that Aberdeen's Railhouse Brewery wanted to move to Pinehurst and set up a microbrewery and restaurant in the resort's old steam plant facility in historic Old Town.  Village government got really excited and started seeking variances to local ordinances, as well as tax money to help improve the steam plant property and make the project a GO.  (Never mind that downtown Pinehurst features ALL KINDS of restaurants and bars that have started up and expanded and thrived without ONE DIME of tax money.)
Here we are in November.  The steam plant property has not changed hands.  The Village of Pinehurst has obtained and approved hundreds of thousands of tax dollars to improve the property.   But Railhouse, citing problems with obtaining financing, has now backed out of  its plan to move down the road to Pinehurst.
So, taxpayers are now on the hook to pay for a new road and parking lot that only benefits the dilapidated, abandoned early-20th century steam plant building .   Pinehurst village government is pledging to find ANOTHER microbrewery to set up shop in the steam plant building.
But is that REALLY the village's job?  I think I saw a statistic that showed one-tenth of Moore County's population to be licensed realtors.  Why not leave this task to THEM or the countless other developers based inside and outside of the county?
This same week, we also learned about how Cumberland County has invested $2 million in an industrial park that has basically been turned into "an expensive walking track."
Local governments are having too much fun gambling — playing poker with our money.  Government needs to leave economic development and economic growth to people who know a little something about business.  Government leaders interested in economic development can do their part by improving the business climate within their jurisdictions — tasks like scaling back red tape and cutting taxes. In other words, act like a team member, and not an obstacle / nuisance.
Pinehurst suffers in the economic development arena because of the well-developed (and some say rightly-deserved) fascistic reputation of its planning process.  During the 2011 campaign, operatives of the Village Action Team PAC  — which backed victorious candidates John Cashion, Nancy Fiorillo, and Mark Parson — were promising voters DRASTIC changes within the village manager's office and the village planning office.  Those have yet to be seen.  Following through on THAT campaign promise is how you persuade entrepreneurs to give Pinehurst a second look.