Pinehurst: A welcome-aboard briefing for the new police chief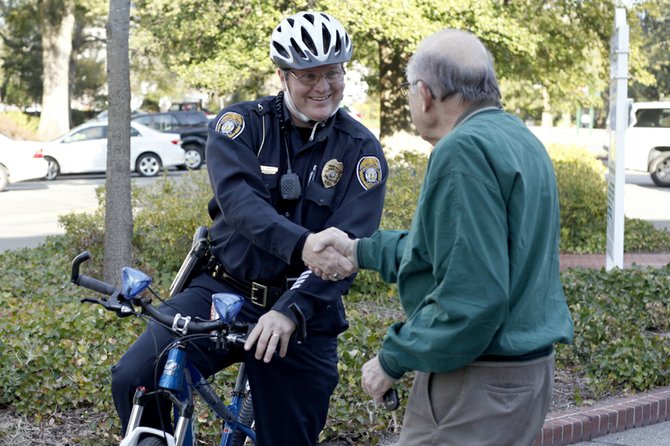 Our thrice-weekly Nobel Prize-contending, Pulitzer Prize-winning local newspaper ran a nice article this week on new Pinehurst police chief Earl Phipps.  Change was really needed at the PPD.  The old regime ran the department  in a manner reminiscent of Cold War era Eastern European police states.
Phipps appears to be a big fan of community policing —  an operational mode that wins good publicity but destroys the department's internal morale and does little to clamp down on crime.   I speak from experience.
Harry Dolan, now the Raleigh police chief, implemented community policing while he was chief of my hometown department in Lumberton.  Community policing won Dolan a lot of personal accolades, and helped him win bigger, better jobs later in Grand Rapids, Michigan and Raleigh.  We, the local taxpayers, got stuck with increased departmental overhead costs and a department decimated by talented, veteran officers who left in frustration.
Here are a few thoughts for Mr. Phipps to chew on as he starts off in his new job:
Change the Mindset.   For far too long, residents have been viewed as prey.  We are your customers, and — via our tax payments — your bosses.  Get the patrol cars and the radar out of the bushes. Get those cars patrolling

EVERY

neighborhood multiple times a day.  

Actually put officers IN patrol cars.

 I see the PPD deploying a tactic from the Dolan-era Lumberton  PD — parking empty marked units on the side of the road.  As in Lumberton, this will only work for a little while.  In Lumberton, the tactic was eventually stopped after photos — depicting people having sex up against or on top of those empty marked  units — began surfacing on The Internet.  
Bike patrols in downtown are not addressing the real crime problems in Pinehurst.   Vandalism of private property, break-ins, home invasions, robberies, and burglaries have been a problem for years in the neighborhoods off NC 211 near FirstHealth (Village Acres, Gun Club, etc.) and the residential areas off of NC 5 near Lake Pinehurst.  Criminals are emboldened when they know Pinehurst marked units are anchored to their speed trap positions around town.  Wouldn't it be nice to make those criminals a little uneasy?  What if a marked Pinehurst unit was to come around the corner just as Mr. Criminal kicks in the door to that house? 
Keep your eye on NC 5's Trotter Hills Business Park  near the intersection with Blake Blvd. 

 This abandoned, undeveloped site has become a popular place for dog owners to exercise their pets.  (I've walked my dog there.) The park has some untrimmed foliage that has created lots of places to stay hidden from view by NC 5 traffic.  I, and other dog walkers, have seen transactions being conducted from car trunks there.  We've seen incidents that look like sexual hookups or drug deals.  I've seen various Pinehurst police, Moore County Public Utilities, and Village of Pinehurst vehicles parked in secluded sections of the site while the drivers napped.  Walking along some of the site's wooded trails, one can see plenty of discarded drug paraphernalia and alcoholic beverage containers.   (I now drive over to Southern Pines to walk my dog. )  Perhaps you could get the village — or the property owner, to cut back the foliage so the activities on the site are much more visible from Highway 5.