Pilot owner at odds with his op-ed page on "corporate welfare"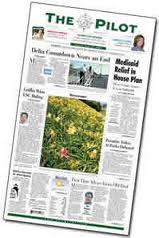 Frank Daniels III, a minority owner (and son of the majority owner) of our thrice-weekly Al-Jazeera Award winning local paper, is upset about the whole idea of corporate welfare.   Frank #3's definition of corporate welfare is a bit different from mine.  He sees it as the result of politicians getting campaign contributions from businesses, and those same politicians then voting to deregulate stuff.    Of course, if you take time to read the linked column, you'll see Daniels present the issue as though only Republicans take money from PACs and other business interests.  Democrats don't do those bad things.   Funny, though.  There are a lot of examples of Frank #3 and his daddy, Frank Jr., dumping money on Democrat candidates and officials while they were owners of The Raleigh News & Observer — which was, and is, a large business.   *I guess THAT is all OK.*  
I — and most other people — see corporate welfare as tax money dumped on certain, favored businesses by politicians.  Kind of like what happened here in Moore County recently.  
The op-ed page of The Daniels-owned paper was doing back-flips in excitement over the First Bank deal.  Many of First Bank's board members, and largest depositors, reside in Moore County.  Many of their senior employees live in this neck of the woods.  Troy and Montgomery County are struggling economically.  Was it really THAT much of a surprise that they came this way?
Southern Pines AND Moore County awarded more than $250,000 in incentives AFTER the bank had purchased the Hobbs Upchurch building in downtown Southern Pines.  The spin from Partners in Progress is that the money will cover moving costs.  What does Moore County get in exchange for this "deal" — other than being able to say a bank is headquartered here?  Pretty much all of the people working in the new HQ will be people who have already been working for the bank in Southern Pines AND Troy.  (The bank will be leaving 150 data-processing jobs in Troy.  THOSE would have been nice for some of those folks who got laid off at Gulistan.) 
Southern Pines and Moore County have established an awkward precedent.  Are they putting themselves in the position of paying off ANY local employer looking at shifting jobs elsewhere? Will the cash drawer be open for ANY business looking to shift locations?  Do we really need to pay people to come here to do business? 
There may be some political repercussions from this deal — at least at the county level.  One of my county government moles tells me that the county incentives were the result of a powwow between political activist George Little and his disciples, commissioners Larry Caddell and Jimmy Melton.    Both men are up for reelection in 2014, and both are suggesting they will not seek reelection.  In any case, some local grassroots activists tell me the search for quality primary opponents for both men is already under way. 
After this kerfluffle over First Bank's move from Montgomery to Moore County, it will be interesting to see how the Mega-Park deal between Moore  and Montgomery counties proceeds.