ONE MORE WEEK: Runoff election day is July 17th (Time for endorsements.)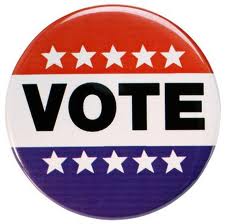 Runoffs for a wide range of offices are on the ballot for the July 17th runoff.
Have you voted?  Will you be around on July 17th?   Early voting began on June 28th.  If you plan to be out of town on July 17th, take time NOW to go over to the board of elections office and VOTE.  You can also pick up an absentee ballot from the board of elections office.
The media has done a lousy job informing people about the candidates and the importance of the races being decided on July 17th.  (We've tried hard to pick up the slack.) 
Our nation and our state are mired in serious economic crises.  Blowing off the chance to choose leadership for both entities for the next four years basically amounts to surrendering.  If you don't vote, you have NO RIGHT to complain.
We here at The Haymaker have done some investigating — some rooting around — and have cobbled together a list of people we'd like to see win on July 17th.  Pay close attention, and take notes:
Lieutenant Governor:  The Democrat race has been decided. Linda Coleman is waiting for the Republicans to pick a nominee to face her in November.  Republicans Tony Gurley and Dan Forest both seem to be decent people with solid conservative credentials.  

But we are recommending a vote FOR Dan Forest on July 17th.

 Forest has done a better job of reaching out to the Tea Party and other grassroots organizations.  He has visited locations well off the beaten path and talked with people who rarely get a visit from a major political figure.  Forest appears to have a higher level of voter enthusiasm behind him.  He appears to have done a great job of uniting social and fiscal conservatives behind his candidacy.  We're concerned about the large number of establishment, me-too Republicans who appear to be coalescing behind Gurley.  That certainly raises questions about how committed he is to fighting for a conservative, free market agenda in Raleigh.

Secretary of State:

      Former Wake County commissioner Kenn Gardner and Chowan County commissioner Ed Goodwin are facing off for the GOP nomination.   Both seem to be very decent people with conservative credentials.  But Gardner lost points with many this week by trashing Goodwin as a "government bureaucrat."      Goodwin is a retired NCIS agent.  (You know NCIS from the hit TV show.)  Goodwin traveled around the country and the world working on important tasks like counterterrorism and presidential security.  That's nothing to sneeze at nor ridicule nor dismiss.   Goodwin's federal law enforcement experience could be an asset in beefing up the investigative role of the secretary of state's office.   We're recommending a vote FOR Ed Goodwin on July 17th.  
Commissioner of Insurance:

    Former construction and insurance executive Mike Causey of Greensboro is facing off against former legislator Richard Morgan for the GOP nomination.    Morgan cut a deal with former Speaker Jim Black to screw over legislative Republicans.  Morgan was kicked out of the Republican Party for six years.  The information in THIS RESOLUTION should give you plenty of reason to NOT vote for Richard.   Mike Causey is a class act who has worked hard on behalf of the NCGOP for years.  This is an easy choice.  

We recommend a vote FOR Mike Causey on July 17th. 
Superintendent of Public Instruction:   Wake County school board member

John Tedesco

and educator Richard Alexander are facing off for the GOP nomination.  We don't know much about Alexander.  On the face of it, he seems like a nice man with conservative credentials and a solid record as an educator.   Tedesco has had the advantage of having his work on the Wake board covered statewide by WRAL.  Tedesco has been a leader in taking on the edu-crats to streamline the system and cut costs.  He's been a leader in pushing more money out of the central office and into the classrooms.  Looking at how upset the leftists are at his very presence on the ballot makes us even more impressed with Tedesco.  

We recommend a vote FOR John Tedesco on July 17th. 
NC House District 6:

  For voters near the Outer Banks, there is a clear choice in the GOP runoff for this legislative seat.   Tea Party leader Mattie Lawson is running against former Democrat legislator Arthur Williams .   Establishment leaders like Speaker Thom Tillis, former Speaker Harold Brubaker,  and congressman Walter Jones have rallied behind Williams and helped fund him.  If you think Raleigh needs to be shaken up, your choice is clear: Mattie Lawson.  

We recommend a vote FOR Mattie Lawson on July 17th. 
US House District 8:

  John Boehner, Eric Cantor and the rest of the DC establishment are lining up behind Richard Hudson in the GOP runoff.   The Tea Party, RedState.com, and The Club For Growth are lining up behind

Scott Keadle

.  We like Keadle's friends a lot better.  If you think DC needs a reality check, send Scott Keadle up there then stand back and watch him work.  

We recommend a vote FOR Scott Keadle on July 17th. 
US House District 9:

   Former Mecklenburg sheriff  and current county commissioner Jim Pendergraph is facing off against former state senator Robert Pittinger in the GOP runoff for the seat incumbent Sue Myrick is leaving this year.  (Myrick is endorsing Pendergraph.)   A messy controversy around a real estate deal — which we've detailed elsewhere on this site — is raising real questions about Pittinger and his ethics.  

Therefore, we are encouraging Ninth District voters to trust Sue Myrick's judgement and vote FOR Jim Pendergraph on July 17th.