Once you open the tax dollar spigot, it's doggone tough to turn it off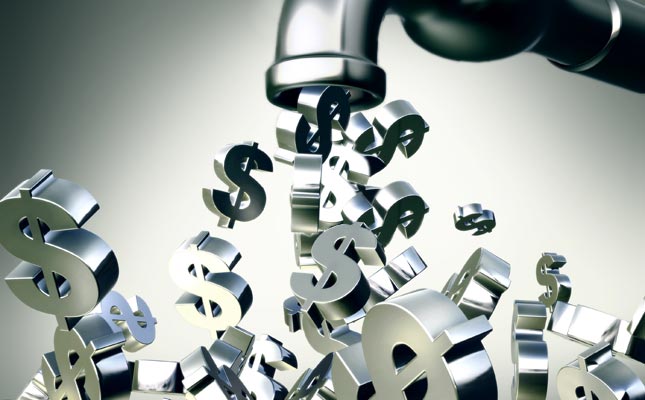 A story in today's edition of The Wall Street Journal illustrates this point beautifully:
When the University of Wyoming needed an extra $10 million for renovations to its basketball arena last month, state legislators turned to an unlikely source: a federal fund for cleaning up abandoned coal mines.

The fund was set up to pay for things like sealing up old mine shafts and dealing with collapsed tunnels and abandoned surface mines. But, as allowed under law, the university plans to use the money to fix up its Arena-Auditorium, where its Cowboys play, providing an exterior face lift and rotating the court 90 degrees.

The University of Wyoming plans to tap a federal fund for cleaning up old coal mines to renovate its arena, including rotating the basketball court.

The U.S. Interior Department is likely to fork over the money for the arena despite years of bipartisan efforts in Washington to close the spigot of federal dollars to states that no longer need so much money for abandoned mines.  
Who is managing this money?  If the state doesn't need it for mine cleanup, take it back!  How hard is that?  UNC-Chapel Hill paid for construction of The Dean Dome completely with private funds.  These guys in Wyoming surely don't have the same size alumni or fan base to work with.   But was there any effort to try the private route with the alumni association?  Read on:
In the fight to curb government spending, the Obama administration, the Simpson-Bowles deficit-reduction commission and a host of Republican and Democratic lawmakers have advocated cutting the $180 million in mine cleanup money that goes to four states and three Native American tribes that have largely fixed their abandoned coal mines.

The money keeps flowing, however, because efforts to stop it have been blocked by a bipartisan group of lawmakers from the states that get the money. They say the money is theirs because the federal government collected it from coal-mining operations in their states.

The stalemate illustrates how difficult it can be for Washington to stop spending money even when members of both parties agree that cuts are needed to reduce the federal deficit, projected at roughly $1.2 trillion this year. Other bipartisan proposals, such as a push by the White House and House Budget Committee Chairman Paul Ryan (R., Wis.) to end certain farm subsidies, projected to save at least $20 billion over 10 years, have hit a legislative wall amid stiff resistance from farm-state lawmakers.

Advocates of scaling back the abandoned-mine spending argue that if the federal government can't trim a program that small—it makes up just 0.0047% of federal spending—odds are slim it will be able to effectively tackle bigger challenges like Medicare and Social Security.

Alan Simpson, a Wyoming Republican who co-chaired the White House's deficit-reduction panel in 2010, agreed to include a proposal to cut the abandoned-mine money. He said it was the type of small, symbolic change that would be necessary if the country was going to get serious about reducing the deficit.

"Wyoming people don't lose any sleep" over how they use the mine funds, said Mr. Simpson, who served in the U.S. Senate from 1979 to 1997. "They just hope nobody will wake up."

Republican Gov. Matt Mead said in an interview he had concerns about the basketball-arena project, but agreed to support the funding because the school needed it. "The Arena-Auditorium is probably outside of the core area, but I don't think it is inappropriate or that we are violating anything like the spirit" of the law, he said.

[…]

Wyoming officials figured they would get large payouts every year because their state was producing so much coal. But the money had to be "appropriated" by Congress, meaning lawmakers had to vote each year on who would receive it. That often didn't happen, so a lot of the money sat unused, including hundreds of millions of dollars that Wyoming officials believed belonged in their state.

In 2006, as parts of the law were set to expire, Sen. Mike Enzi (R., Wyo.) won passage of a measure that allowed the money to flow as "mandatory" spending, meaning it didn't have to be voted on by Congress each year. In addition, it allowed Wyoming, three other states and three Native American tribes to use their money, including funds not distributed in prior years, with virtually no strings attached. Those four states and three tribes were certified as having taken care of their most severe abandoned coal mine problems. Other states had to use the money more narrowly for mine problems.

The next year, the Wyoming legislature voted to spend $50 million in coal-mine funds to build a new science, technology, engineering and math building at the university. Groundbreaking for the building, to be named after Mr. Enzi, is slated to begin this year.

The Obama administration has objected to the 2006 law, arguing that Wyoming and other states are now able to use money they don't need for projects unrelated to abandoned mines.

"It makes no sense for the American taxpayer to continue to pay millions of unrestricted dollars to clean up mines that have already been cleaned up," said Adam Fetcher, a spokesman for the Interior Department.
It's tough to stomach when The Obama administration is taking a position more conservative than the GOP caucus in the U.S. Senate.   Read on: 
The White House wants to stop sending money to the four certified states and to change the way money is used so that more goes to states with the "most critical" abandoned-mine problems. The White House says those changes to the program would shave the deficit by roughly $1 billion over 10 years, equivalent to 0.015% of future debt over that span.

Many in the mining industry object, saying the money was collected for cleaning up coal mines and shouldn't be used for reducing the deficit. "Our view is that any revenue from fees specifically imposed on coal companies for [abandoned-mine] use should be used exclusively for that purpose, and certainly not for retiring the federal government's debt or offsetting federal spending on other things," said Luke Popovich, a spokesman for the National Mining Association.

Mr. Enzi, an accountant who owned a shoe-store business before joining the Senate in 1997, expressed skepticism during an interview about whether, if the White House succeeded, it would use the money to reduce the deficit. "The proposal isn't to send money to other states," he said. "It's to steal money and put it into brand new programs."

Mr. Fetcher, the Interior Department spokesman, responded: "These reforms would allow us to focus our limited resources on the nation's highest-priority abandoned-mine cleanups."

Mr. Enzi and several other Wyoming Republicans and Democrats said in interviews that the money belongs to their state because of how much coal it produces. "Wyoming ought to get to do with the money what they want to do," Mr. Enzi said.

Democrats from states that benefit from the current law also have vowed to stop the White House effort.

"We will keep fighting to make sure money from Montana coal companies goes to cleanup efforts in Montana, where it rightfully belongs," Senate Finance Committee Chairman Max Baucus (D., Mont.) said in 2010. Montana uses much of its money to clean up abandoned gold, silver and copper mines, permissible under law, Mr. Baucus's office said. The state was projected to receive $13.4 million in abandoned-mine funds in 2012, roughly 10% as much as Wyoming's take, but would probably lose that money if the rules were changed.

The 2006 law was a victory for Mr. Enzi, who estimated it would bring in $1.6 billion for Wyoming over 15 years.

Last month, Wyoming legislators from both parties agreed to spend $30 million of the roughly $150 million they will receive this year on road projects and $40 million on the University of Wyoming. Another $30 million is being set aside to deal with problems that could crop up with abandoned mines previously thought to be stable.

Meantime, other states that aren't producing as much coal today lack funds to address problems with their old mines.

[…]

Back in Wyoming, a few state legislators, aware of the budget debates in Washington, cast a nervous eye to the East as they voted to approve the basketball arena upgrades.

"I think the federal government is looking for an excuse to take this money away from us, and I have some legitimate concerns, I believe, about using it for a basketball arena," state Rep. Matt Teeters, a 29-year-old Republican who represents counties in southeastern Wyoming, said during a Feb. 21 debate on the measure.

But other legislators said the money was Wyoming's, and the state had to use it or lose it. "We cannot save this money," said state Rep. Rosie Berger, a Republican from Sheridan. "We cannot set it aside."

"It's just like feeding time—feeding time at the zoo," said state Rep. Bernadine Craft, a Wyoming Democrat who voted against the basketball-arena project because she said there are abandoned-mine projects in the city of Rock Springs that she feels are being overlooked.

"We try to be careful in how we use this money," said Gov. Mead. "It's always a debate, of course, with the legislature and my office, how it's going to be used."