N&O, leftist teamwork in Wake school board race a travesty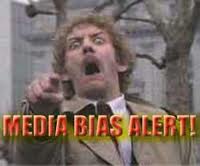 The N&O teamed up with its former employees in Boss Bev's press office to walk back her bizarre, baffling, stupid comments about 'suspending elections.' Now, the good, down-with-the-struggle comrades in the N&O newsroom are teaming up with a radical leftist PAC to smear  a conservative candidate in a RUNOFF for a Wake County SCHOOL BOARD seat:
Wake County school board candidate Heather Losurdo provided a reference this evening to back up statements on her website that she had overseen $2 billion in small business loans for First Union Bank in the late 1990s.

Progress NC Action, a liberal advocacy group, had accused Losurdo of embellishing her resume, questioning how a person with no college degree and a personal bankruptcy could have that level of responsibility. At a press conference today, Losurdo said that she had gotten in contact with Donald Senior, her supervisor at First Union, to show her statements were correct.

In an interview Friday evening, Senior substantiated Losurdo's assertions about her duties at First Union.

"We've got the get the truth out," Senior said. "What's listed on her website is correct."

Before Thursday, Senior said he had not spoken to Losurdo for more than a decade.

"I believe an apology from certain people would be appropriate," Losurdo said. "For me I consider the matter closed."

Losurdo, a Republican, is running against Democratic incumbent Kevin Hill in the hotly contested District 3 runoff race on Tuesday that will determine which side has the majority on the school board.

Groups with ties to local Democrats have targeted Losurdo throughout the campaign.

Hill has said he doesn't condone the actions of these outside groups. But Losurdo said Hill's statements are "hollow."

"Left-wing special interest groups have done most of the campaigning and virtually all of the smear tactics on behalf of Mr. Hill," Losurdo said.

Also today, Losurdo, 40, addressed questions about how Progress NC Action has brought up she worked at a strip club in New Orleans in 1993.

Losurdo said she was a cocktail waitress who was fully dressed and only served drinks.
Seriously?  It's a major story that this candidate had financial troubles and worked as a cocktail waitress nearly two decades ago in her early 20s?  That's NEWS?  It's somewhat unusual to find someone who DIDN'T struggle  a little in their early 20s.
The most atrocious part of this:  Where are the issues?  How is any of THIS to aid voters in deciding what's best for their school-age kids?
The N&O collaborated with leftists in the late 80s and early 90s to give this kind of sledgehammer coverage to Jim Martin, the last Republican to reside in the Governor's Mansion in Raleigh.  Their "reporters" float back and forth between Democrat press offices and The N&O newsroom. There is a clear agenda here.  Use the power of The First Amendment to crush conservative figures in North Carolina.
They covered up for Boss Bev.  They covered for Mike Easley until he left office.  They covered for John Edwards until he got busted by The National Enquirer.  They're STILL LYING for Jim Hunt.  Just imagine how much better North Carolina would be if this flagship of our alleged mainstream media applied the same level of scrutiny to their leftist comrades as they do for Republicans and conservatives.
I feel bad for Wake County voters who have to make a decision on Tuesday by relying on this leftist garbage.  If you want solid, reliable information to help you make up your mind, you're going to have to look somewhere other than your local newspaper.