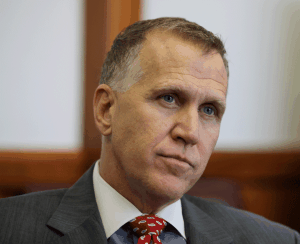 A friend of this site told me about an interesting encounter he had last week at baggage claim in the San Antonio Airport.  While waiting for his bags to come down the carousel, he looked to his left to see — none other than — Thom Tillis.
Wait. You say Tillis is the speaker of the North Carolina House and is running for North Carolina's US Senate seat? There are no votes for him in Texas. 
Our source said he learned later that Tillis was in town for a fundraiser sponsored by Joe Straus, speaker of the Texas state House of Representatives.  Straus — like Tillis — has had some heartburn in his relations with conservatives. 
Gosh. Straus last week.  Chris Christie this week.  Ol' Thom's really going after that right-wing crowd, huh?