#ncpol: Ol' Pat to Civitas?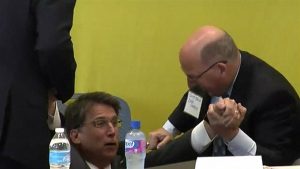 We were just talking about how North Carolina's most prominent unemployed guy was hankering for another taste of Raleigh.
The word on the street(s) — Blount and Jones, of course, among others — is that the former governor has caught the eye of Art Pope and his nephew John Hood.  That dynamic duo, I hear, has visions of ol' Pat filling the shoes soon to be vacated by one Francis DeLuca.
The move would certainly give McCrory a platform to stay in the news until 2020.  Though, it would be hard to sell him as "the voice of conservatism" — given his track record in Charlotte and Raleigh.  Stay Tuned.