#ncpol: NCGOP's Jeff Hauser is (*SOB!*) soooooooo very, very very, very sorry.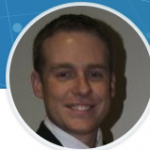 That's one heck of a rude, foul-mouthed little kid they've got running the NCGOP communications operation in Raleigh.  He slandered the late Walter Jones all over social media.  He chewed out Rep. Mark Meadows in person (for the unforgivable "crime" of supporting Jones's reelection).
He's attacked me on social media with some of the most vulgar, obscene language I've heard since my days playing football.   (We  also get the occasional piece of vulgar, profanity-laden hate email from a fake email address and a Raleigh area ip address that looks suspiciously like Hauser's writing "style.")  
And he STILL has a job and steady paycheck at NCGOP HQ.
SO, it was sort of a delight to see THIS come across the ol' email today: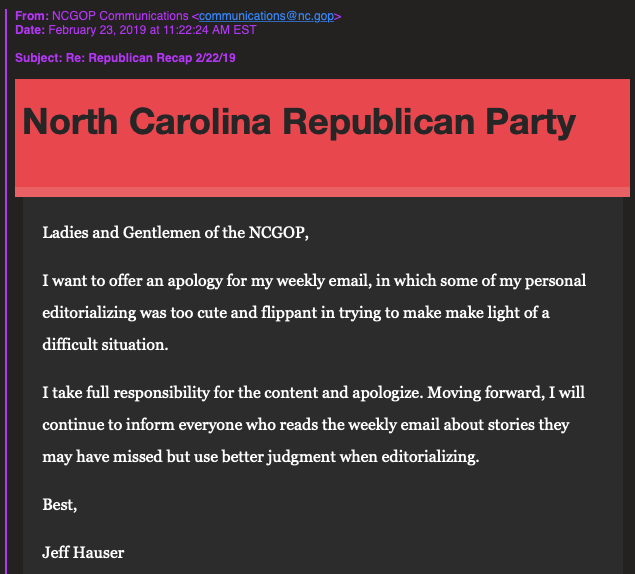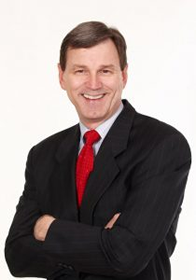 What's the little guy talking about?  He sends out a weekly news summary which often looks quite plagiarized from some other more reputable source(s).  This week's sort of gave the the tragic events at the state bar office building in re: Mark Harris the "Aw, shucks, let's move on" dismissive treatment.  
There are plenty of targets  still out there for the NCGOP to rage about, but Hauser chose to ignore it, dismiss it and move on to more important topics like Kamala Harris and Diane Feinstein. 
The party had a congressional victory stolen from it by a coalition of state bureaucrats and Democrat operatives, and is on the verge of having a judgeship stolen from it by basically the same crew.  But the message from state party and its communications director  is: SCREW MARK HARRIS. ON TO "BETTER" THINGS.
The NCGOP state convention can't come soon enough.  (Have you met Jim Womack?  While they've been screwing up in Raleigh, he's done some great things in Democrat-dominated Lee County.)