NCGOPe's Barry says what most of us think about NCGOP status quo
Now, I think we know why "Foul-Mouthed Jeff" tucked tail and apologized so quickly.   Here's Union County GOP chairman Dan Barry offering up his two cents on Facebook: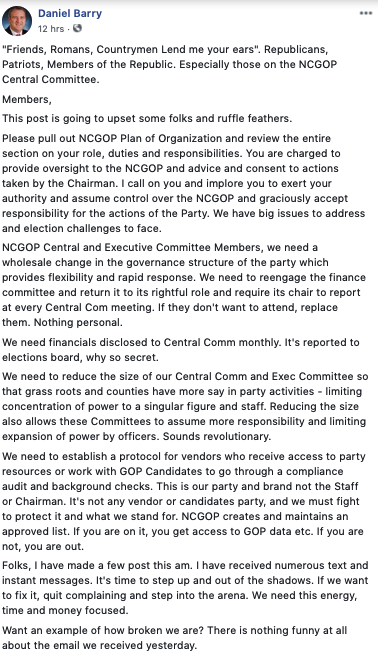 What's ol' Dan talking about?   Oh, THIS: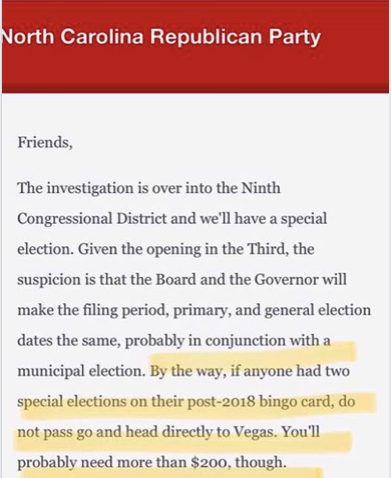 That is an excerpt from the weekly email blast produced by NCGOP communications director "Foul-Mouthed Jeff" Hauser.  (He of verbally-abusing-Mark-Meadows-and-Walter-Jones fame.)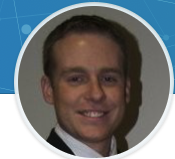 Barry made some noise some time back about running for chairman  — if Robin Hayes stepped down.  That's not happening.  So, Barry now appears to be eyeing the special election  for the Ninth Congressional District.
Barry is one of the big fundraising impressarios of the NCGOP, and likely recognizes the PR problems the Woodhouse-Hayes-Nix team are causing out in the hinterlands.
A lot of what Barry brings up sounds a lot like what Lee County GOP chairman Jim Womack is touting as he  makes his rounds on his campaign to unseat Hayes as state party chairman.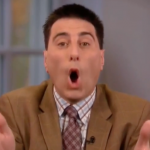 When you have BOTH wings — the full ideological spectrum —  of the NCGOP expressing dismay at what they see within their own party, it's safe to say there's BIG TROUBLE in River City  on Hillsborough Street.  And it's time to make a change.