#ncpol: Kelly Hastings's head EXPLODES.
That Svengali of campaign finance is convinced they're out to get him: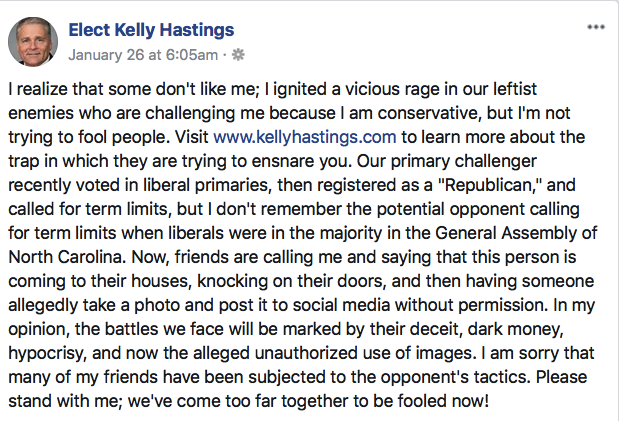 What's he talking about?  WHO is he talking about?  He's talking about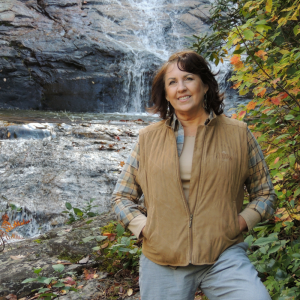 Charlene High, his first-ever GOP challenger for his House seat.   (Kelly himself got elected in 2012 by challenging a sitting GOP legislator.)
Bashing her for knocking on doors?  Kelly has never done that?  No one in  the House GOP caucus has ever done that?
Also, painting Ms.High as an undercover leftist?  Her bio on her campaign web site says — among other things — she's been serving as a "volunteer chaplain" with the Billy Graham organization's disaster relief operation.  (*What a commie.*)
Recently voting in "liberal primaries"? I spoke with a  source in the High campaign who explained the candidate has spent most of her time and energy in  her life on her church-related activities, and next-to-nothing on politics.  This source confirmed that Ms. High – like so many in her family over the years — was a registered Democrat.
The source said High was angered by the actions of the Left and the Democrat Party over HB2.  That whole episode encouraged her to cross the aisle and become a Republican.  Said my source:
"The whole HB2 thing was a shock to her system.  She began reevaluating things and decided she had little in common with folks in her party.  She started looking more and more into what was going on in Raleigh and DC and decided she wanted to put herself out there to make a difference."
The late Jesse Helms was a Democrat for decades. (He got elected to the Raleigh City Council as a Democrat.)  Current GOP chairman Robin Hayes was a Democrat for decades before being talked into switching parties by then-congressman Jim Martin.  I'd be willing to bet that are some people sitting in the House GOP Caucus right now with Mr. Hastings who were once Democrats and voting in Democrat primaries. 
Kelly Hastings has been a loyal soldier for Tim Moore, Jason Saine, Nelson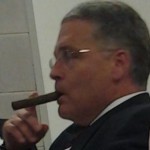 Dollar and David Lewis since he's been  in Raleigh.  He's been a loyal soldier for the solar goons.  Kelly has taken a walk when his vote was needed on a number of conservative votes.  He's also been quite suspect with his personal campaign finances in a manner quite similar to the one that landed Fletcher Hartsell in a whole lot of legal hot water.
Knocking off Kelly Hastings would be a great way to get the Raleigh GOPe to sit up and take notice of us "little people" outside the Raleigh beltline.  Click here to visit Ms. High's website, to learn more about her, to contact her campaign, or to donate some cash.
(Kelly Hastings will be getting a lot of that "dark money" he bemoans on Facebook from Tim Moore and his lobbyist buddies in Raleigh.)