NCGOP lawyering up against party activists?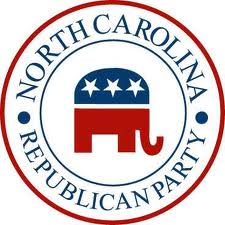 2012 is really turning out to be the Year of The Lawyer in North Carolina politics.  First, we have the Pat McCrory campaign lawyering up to sue a Democrat PAC and WTVD Newschannel11 over a campaign ad.  Then, we get a complaint filed by lawyers for said Democrat PAC against the McCrory campaign.  Now — according to sources in attendance as delegates at the NCGOP convention last weekend in Greensboro —  state Republican party officials are reportedly threatening legal action against the people who produced and distributed THIS FLIER during the convention.
The flier in question accuses party leaders such as House Speaker Thom Tillis and NCGOP vice chairman Wayne King of  meddling in party primaries and recruiting "decoy candidates."
Sources in attendance at the convention tell The Haymaker that a female delegate from Carteret County was handing out copies of the flier in question at the convention, when she was reportedly confronted by King, Tillis, Senator Bob Rucho, and another gentleman identified as "the party attorney."  Witnesses say the delegate passing out the fliers was threatened with legal action for "defamation and slander" if she continued to pass out the fliers at the convention.
Jenny Cooper, chairman of The Pitt County GOP, told The Haymaker that she was confronted about the fliers by that group of party officials:
"They told me someone in my group was passing out these fliers, and wanted to know what I knew about them.  I had not seen the flier until that moment.  A copy was handed to me so I could read it.  I took time to read it, handed it back, and said,'They've got a point.  The points raised in this flier are something that needs to be seriously looked into and dealt with.' "
Cooper said she heard the talk about threats of lawsuits, but dismissed it as "saber-rattling" :
"What good would come of filing a lawsuit over this?  Legal action would bring a lot more public scrutiny of party operations and party leaders.  Getting lawyers involved in this  matter would cause it to grow legs and tentacles that reach into who knows where.  Thom Tillis has enough problems as it is. "
We reached out to NCGOP headquarters for comment on this story, but have heard nothing in response.  (If we do hear anything, we will give you the details IN FULL right here.)   We are also still trying to talk directly to the convention delegate who had been passing out fliers.
Cooper said she talked with King via telephone earlier today about this incident:
"He told me he didn't know anything about meddling in primaries or running decoy candidates.  I told him I appreciated him saying that.  I also told him that I have received enough reports of that kind of thing — from sources I consider highly reputable — to warrant a serious investigation.  We need to stop with the anonymous accusations and the unsigned fliers.   We need to get the leadership and the grassroots people in a room to talk about this face-to-face, with mediators or whatever else we may need. If that doesn't work, we can move on to other approaches."