#ncga: YET ANOTHER screwy deal on jail food service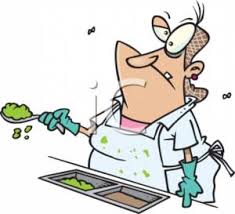 What is it with cutting special insider deals on feeding jail inmates?  We reported earlier on an effort in the House to seek a no-bid deal for food service to the Alamance County jail.   Now, it appears Rep. Julia Howard (a/k/a Richard Morgan's great-great-grandma) is working some magic along those same lines for the good folks of Davie County.
Howard has introduced a bill seeking to allow the Davie County schools to provide food to the inmates at the county jail.  (Hmm. Based on my experience in high school — and my experience working in a state prison  — I thought jail food and school food were already coming from the same horrible source!)
The "problem" with Howard's bill?  It conveniently and explicitly dismisses the requirements of NC GS 66-58  which forbids (1) the state from competing for business that could be done by private citizens in North Carolina, and (2) the state from running a cafeteria or restaurant of any kind in a state-owned facility.  They may be the "county schools," but they sure do run on a whole lot of state and federal money. 
* One of those statute thingies ham-stringing you?  No problem.  We'll just draft a bill OK-ing the ignoring of said statute.*