#ncga: Tillman pays fine for 2013 donation from "unregistered committee"
State board of elections records show senator Jerry Tillman GIVING BACK a $1000 campaign contribution to the state on April 1.  The act appeared to catch at least one board employee off guard: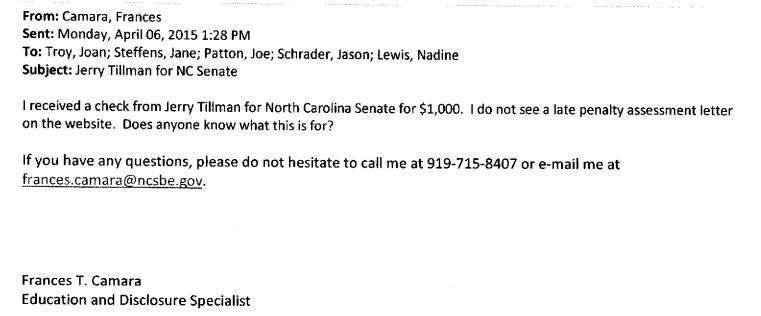 One of the state board's field auditors had the answer:

What is QC Holdings? According to our research, it's a payday lending group based in Kansas.    In 2005, the company announced they were pulling out of North Carolina:
[…] QC Holdings, Inc. (NASDAQ: QCCO) announced that it expects to close each of its 19 stores in North Carolina before December 1, 2005. The Company will record an approximate $2.5 million non-recurring charge to pre-tax earnings in connection with the closings. In addition, operating losses in North Carolina during third quarter 2005 are expected to total approximately $1 million. Once the stores are closed, the Company will have no ongoing presence in North Carolina.

Don Early, QC's Chairman and Chief Executive Officer, commented: "We announce our decision to close our stores in North Carolina with great sadness. We have operated these stores for a number of years and have many valued long-term employees who are affected by this action. We are also disappointed for the many customers for whom we will no longer be able to provide short-term financial solutions."

The Company's decision to close its stores reflects the difficult operating environment in North Carolina associated with the Company's role as an agent for a lending bank that is offering payday cash advances in compliance with the revised Payday Lending Guidance issued recently by the Federal Deposit Insurance Corporation. During 2004, the Company's North Carolina stores represented approximately 5% of the Company's total revenues and total gross profit.

The non-recurring charges associated with the store closings reflect estimates of costs required to cease all operations in North Carolina. The charges include $665,000 and $575,000 for the write-off of goodwill and property, respectively; approximately $350,000 for operating lease terminations; approximately $200,000 related to severance payments; and approximately $200,000 for various other costs, including storage, moving and cleaning. In addition, the Company expects to record a $500,000 reserve for loans that the Company estimates will be uncollectible. This information is based on preliminary estimates and we expect that a majority of the charge will occur in the third quarter 2005.

Darrin Andersen, President and Chief Operating Officer, noted: "While this decision was extremely difficult, there are two key benefits the Company derives. First, the Company avoids operating losses associated with its North Carolina operations. Second, the Company eliminates its exposure to the agency relationship with bank lenders. With this change, the Company will no longer be using the bank model relationship at any of our stores. By removing the uncertainty in North Carolina, our Company can better focus its efforts on the various business initiatives that are critical to long-term shareholder value."[…] 
According to this report, QC Holdings was back doing business in North Carolina in 2015.
The board of elections site shows the questionable contribution to Tillman came from "QC Holdings PAC" in October 2013.  A search of the board's online database confirms that the political action committee has not registered to do business in North Carolina.
The 2013 date of the donation is also interesting.  That year, Tillman and Democrat senator Clark Jenkins introduced SB 89 — legislation setting guidelines for payday lending.  The bill was forwarded to the Committee on Commerce — never be seen again.