#ncga: Tillman coming back for MORE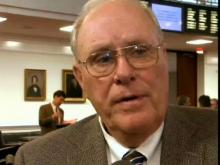 The rumors of his retirement have been greatly exaggerated.  That's the message state Senator Jerry Tillman wants to send to certain sectors of the Republican establishment inside and outside of his district.
We have heard from multiple Republican sources within the senate district that a prominent local Republican — with close ties to the governor's mansion — has been calling around trying to recruit a candidate for Tillman's seat.  One of those calls, we understand, went out to state Rep. Jamie Boles (R) — who represents Moore County, a major component of Tillman's district. 
My sources tell me that the recruitment pitch includes allegations that Tillman (1) has had a falling-out with Senate leadership, and (2) is actually contemplating retirement.  I spoke with a source close to Tillman who set the record straight:
"The senator fully intends to file for reelection in 2016.  He's enjoyed serving the people of his district, and, from all appearances, the voters appreciate his hard work on their behalf. The senator's relationship with senator Berger and the rest of his team couldn't be better.  He's part of the chamber's leadership.  He's been ranked as one of the chamber's most effective senators.  He was also named as a co-chairman of the Finance and Education committees. Senator Tillman looks forward to working with Senator Berger and the rest of his colleagues in their mission to deliver a better and brighter future to all North Carolinians."