#ncga: The LATEST about THE LATEST charlie foxtrot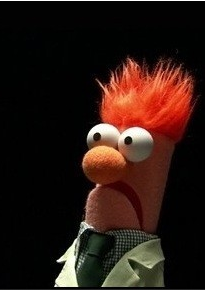 This all started out kind of smooth and uptown-charlottey.  Speaker Timmy, President Phil, Gov. Pat and soon-to-be Gov. Roy got together and reportedly figured out a nice way to make this whole HB2 unpleasantness "go away." Charlotte would repeal their ordinance banning gender-segregated facilities and the state would follow suit with a repeal of HB2 — the argument being that the absence of a problematic ordinance in Charlotte does away with the need for HB2. 
Well, ace reporter Nick Ochsner spilled the beans that the Charlotte City Council actually didn't go through with a full repeal of the ordinance. 
The NC House muddied the waters by voting to adjourn without even taking on a bill to repeal HB2.
Senator Berger is pushing a compromise that involves a repeal and some kind of moratorium on municipalities and counties doing things similar to what Charlotte did.
Lt. Gov. Dan Forest says he's not interested in going along with ANY of this: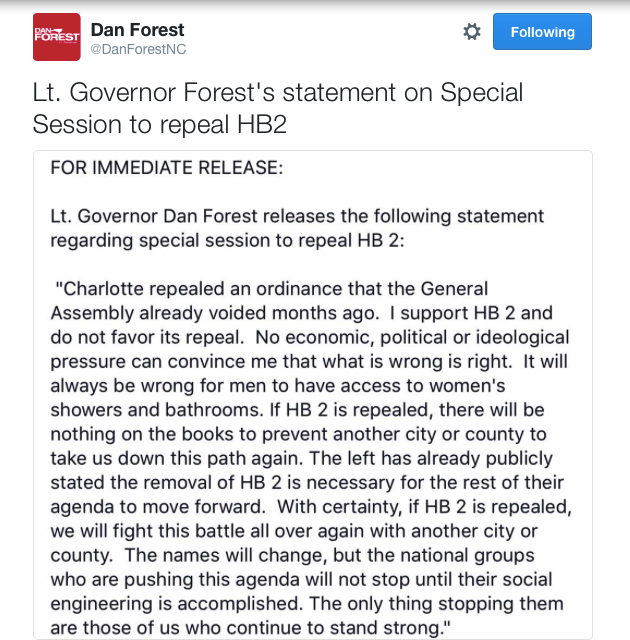 Interesting.  You have the outgoing Republican governor surrendering.  You have the senate president trying to compromise.  You have Speaker Timmy apparently losing control of his chamber.   And here you have Lt. Dan stepping up to fight.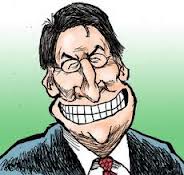 So many people in the political world see fighting as a folly.  It's all about "getting stuff done."  But for so many of us outside the Raleigh beltline, we've been aching for someone to fight the good fight for us.
If Forest is able to unite with House Republicans and kill off this whole effort — he instantly achieves party leader status.  Quite a few folks on Jones Street are angry about the Charlotte double-cross, and the double-dealing of chamber leaders, and simply want to go home.  Forest's gambit may well pay off for him with them.
In the meantime, why not frame this as a true constitutional question?  You have to run requests for new stoplights in town through the legislature.  Our state's guiding document doesn't allow you to run wild enacting your wildest fantasies.  *Chapel Hill goes clothing-optional.  Carrboro enacts a $100 minimum wage.  Durham County grants "personhood" to house cats.*  There IS something to be said about a check on local power.  
If you REALLY want dudes in the ladies room, submit a bill in the legislature and have a full-blown debate and vote on it.  If THAT is really the will of the people of North Carolina, their elected servants will approve it — in accordance with the state constitution.