#ncga: Tax ALL the things!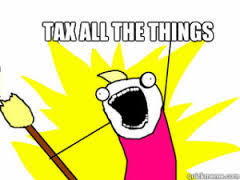 Check out this doozy in the latest version of the budget, H.97, being kicked around Jones Street (p.491, lines 8-9):
[…] A privilege tax is imposed on a retailer engaged in business in the State at the percentage rates of the retailer's net taxable sales or gross receipts, listed in this subsection. The general rate of tax is four and three-quarters percent (4.75%). The percentage rates are as follows:

(1a) The general rate applies to the sales price of each manufactured home of the following items sold at retail, including all accessories attached to the 24 manufactured home the item when it is delivered to the purchaser.purchaser:

[…] The general rate applies to the sales price of or the gross receipts derived from advertising services.
That's right.  A tax on advertising.  Said one frustrated General Assembly insider:
"We can't get a fiscal note on this thing because nobody can give us a specific definition of advertising, as it relates to this bill.  You add that general rate to the applicable local rates, and people will be paying 6.75 percent to 7.25 percent a pop on whatever the state thinks constitutes advertising.  This is clearly somebody taking a jab at the media as payback over coverage.  But no one will 'fess up to being behind this.   It ends up hurting an awful lot of businesses.  It makes it a lot more expensive to get your name out there and talk to customers.  Is that such a good idea in this economy?"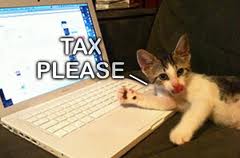 What a can of worms this can open.  Surely, it will hit TV, radio and newspaper ads.  What about Facebook ads?  Twitter accounts?  Web sites? Internet ads?  Email marketing?  T-shirts?  Car window decals?  Bumper stickers?  Political campaigns?
A lot of that stuff is hosted or produced outside of the state or the country.  How would you honestly pursue all of that?  It sounds like a whole new level of government intrusion would be required.
The honorables need to relax on the idea of sticking it to the drivebys.  The drivebys are in the midst of killing themselves off with their bias and overall incompetence.  The free market will handle that without you folks.  Concentrate on getting that 8000-lbs. gorilla called government off of us.