#ncga: Solar Lives! (Phil,Timmy and The Party of Mandates)
I never thought I'd see the day when Republicans cheer the extension of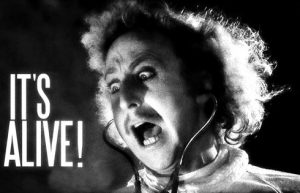 government mandates that are PROVEN to squeeze more money out of working people's pockets.
With each passing day, the few of us who still pay attention are reminded more and more about just how badly we got played for fools in 2010:
A compromise bill to overhaul solar policy in North Carolina is on its way to the governor. But critics say wind energy paid too high a price for the deal.[…]
You think wind energy interests paid too high of a price?  (Wait 'til you see your utility bills over the next few years.) MORE:
The deal was unveiled at around 12:30 a.m. Friday – the last day of the current legislative session – after days of tense negotiation between House and Senate leadership.

House leaders, including SpeakerTim Moore, strongly backed the original solar overhaul bill, the product of a stakeholder negotiation process that took 10 months to reach agreement. But Senate Majority Leader Harry Brown, refused to allow the bill to proceed without adding a four-year moratorium on wind energy development in the state.

Brown, R-Onslow, said the timeout would allow a consultant to complete maps showing areas where wind turbines would interfere with military aircraft training.

The final deal includes an 18-month moratorium – through the end of 2018 – on issuing any state permits for wind farms. No exceptions are made for the Timbermill Wind and Alligator River wind projects currently in development.

The Department of Defense has repeatedly said the two projects would not conflict with flight training paths at Seymour Johnson Air Force Base and Marine Corps Air Station Cherry Point. But Brown said he doesn't necessarily believe they wouldn't hurt the state in the next round of base closures and said the state needs to specify areas where wind development should be banned.
Some may try to argue that Berger, Brown, et. al, got the best deal they could out of the situation.  But THIS was a Republican-dominated legislature.  An alleged driver of an alleged "conservative revolution."  MORE: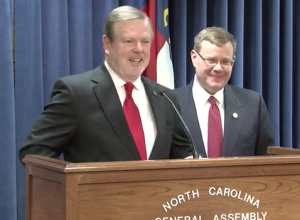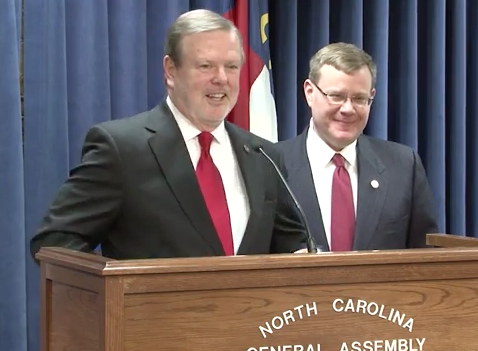 […] Other Democrats argued that even the shorter 18-month moratorium would still be detrimental to the development of wind energy in the state.

"I'm told that one of the two companies is going to pull out if this moratorium occurs," said Rep.Pricey Harrison, D-Guilford. "We have a tremendous wind resource in our state, and I think this is the wrong signal to send."
A "tremendous wind resource" in this state???  EVERYBODY HAS GOT WIND.  (EVERYBODY.)
Sponsor Rep. John Szoka, R-Cumberland, conceded that it wasn't the bill that left the House, but he said the solar provisions would still benefit utility customers, adding that "85 percent of something" is better than nothing.
A bag filled 85 percent with flaming dog poo left on your front porch is JUST AS BAD as one filled to 100 percent.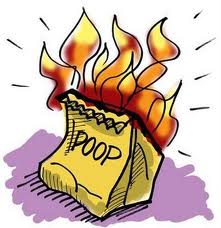 It's not surprising the Democrats went for this.  But we have REPUBLICANS — the alleged guardians of the free market and protectors of the people from the tyranny of government — blessing the extension of government mandates that JACK UP YOUR POWER BILLS.   These Republicans are blessing the government subsidy and protection of a business that could not survive on its own without tax dollars. 
In Raleigh, just like in DC, it looks like we're stuck with two choices:  One that wants to run 100 percent of your life, and another that just wants to run 85 percent of it. 
It's also becoming painfully clear, thanks to the HB2 retreat, THIS, and the bill putting hog farms over private property rights, among other things, that — if you don't have a big check in your hand —  Jones Street has no use for you.