#ncga: Senate Dems' #MeToo moment?
We've told you wild stories about the goings-on in the GOP caucus room.   Now it appears things get just as rowdy on the other side of the aisle.
Clarence Thomas and Brett Kavanaugh are just two examples of GOP nominees who had their reputations stomped all over by dubious sexual harassment and assault allegations.  Always believe the woman, we were told.  Republicans / conservatives are pigs, we were told.  Guilty before proven innocent was the operating philosophy.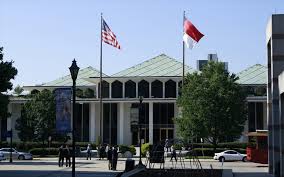 Well,  check out what's oozed from the Senate Democrat caucus:
Last Sept. 11, state Sen. Paul Lowe was leaving a Democratic caucus meeting at the North Carolina General Assembly when he stopped, angrily grabbed a reporter's phone, and threw it across the room.

While a video recording of the incident was widely viewed, what really happened in the caucus room and what led up to that confrontation hasn't been clear.

Now, documents obtained by The News & Observer and ProPublica show a conclusion by police that Lowe committed an assault inside the room. He has not been charged. The records also reveal infighting between Senate Democrats and allegations against multiple senators that include sexually harassing comments.

The documents were part of an investigation of an ethics complaint filed in late April by Sen. Erica Smith, a Democrat representing Eastern North Carolina. In the complaint, she accused lawmakers of bullying, sexual comments and verbal insults, and asked for expulsion from the Senate for two of them.

Smith said she has been trying to get recourse for years.

She said that other senators have been quiet as she has been bullied and disrespected.

"For me, I don't want to have to do this, but I want no one else to have to go through this," Smith said about taking her concerns public as well as filing an ethics complaint.

"No one should have to fear being cursed out, yelled at, embarrassed and humiliated," she said.

She added, "This is unacceptable, and it has to change. And it's not going to change until someone stands up for it," she said.

Last week, the Legislative Ethics Committee of the North Carolina General Assembly dismissed parts of her complaint.

But there's more to be said about the committee itself: A group of lawmakers that assesses other lawmakers, making decisions in private, with no statewide process for transparently and openly addressing complaints from the seat of state government.

Three of the senators Smith accused sit on the 12-member ethics committee. All three recused themselves from considering her complaint.

Before the committee's decision, The News & Observer and ProPublica obtained documents associated with the complaint — including a report summary written by a General Assembly Police Department officer and witness statements taken by police.

The documents give details about the shouting that drew the attention of people outside the caucus room in the Legislative Building on a day when national attention became focused on North Carolina's legislature.

The Democratic caucus argument happened on Sept. 11, 2019, after a controversial budget veto override by the Republican-majority House. The vote in the House, with almost half of lawmakers absent, brought Republicans within just a few senators' votes of finally passing their budget over the veto of Democratic Gov. Roy Cooper.

The override vote was a dramatic moment in a months-long standoff between the governor and Republican lawmakers, with a viral video of Rep. Deb Butler, a Wilmington Democrat, shouting at House Speaker Tim Moore, a Republican.

Later that same morning, Democratic senators met in caucus in the Legislative Building, and Smith and Lowe began arguing loudly.