#ncga: GOPer Brown leaving Jones St. to work for Thillis
The GOP caucus in the North Carolina House will have one less familiar face when the  next session starts up.  State Rep. Brian Brown (R-Pitt) released this info to his colleagues: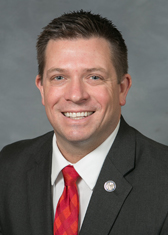 From: Rep. Brian Brown 
Sent: Tuesday, October 06, 2015 2:22 PM
To: @House/Members; @Senate/Members
Subject: Rep. Brian Brown

Friends and colleagues,


 

I am pleased to inform you that I have accepted a position as Senator Tillis' Eastern North Carolina regional representative, and am stepping down as a member of the North Carolina House of Representatives effective today.

 

It has been a tremendous honor to represent the people of Pitt County in the General Assembly, and a humbling opportunity to serve as the chairman of both the Health Committee and the Committee on University Education.

 

I am excited to join Senator Tillis' talented and dedicated staff to now serve all of Eastern North Carolina by assisting communities across the region and helping Senator Tillis build on the progress he has already made on military, veterans, agriculture, and coastal issues.

 

I wish each and every member of the General Assembly all the best, and I look forward to continue working with you as part of North Carolina's team.

 

Sincerely,

 

Brian M. Brown
Dedicated readers of this site may remember our coverage of Brown from the last campaign cycle.   He had all kinds of issues with keeping his campaign books. And it appeared a NCGOP staffer was helping his primary campaign in that department. 
Sources tell me Brown's close ties to some very deep pockets in eastern North Carolina are what made him so gosh-darned attractive to Thillis.